Extra Large Regimental Coat Buttons,
1-1/4" diameter, nickel silver
Our largest military regimental coat button is a full 1-1/4" diameter. Cut from heavy .050" thick nickel silver, these are finished bright. You may buff these to a brilliant shine, by hand or with a buffing wheel. Convex (domed) with a brass loop soldered inside. Best quality, made in the U.S.A.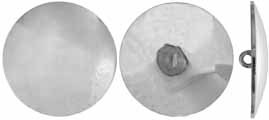 Track of the Wolf, Inc.
18308 Joplin St NW
Elk River, MN 55330-1773
Copyright © 2023Track of the Wolf, Inc.