| | |
| --- | --- |
| Schuetzen buttplate, sand cast brass | |
Sand cast in brass only, this part requires deburring and polishing. A replica from an original Swiss Federal Rifle. Hand made, many variations exist. Essentially, the Swiss Federal Rifle was a target rifle with Germanic Schuetzen features, adapted to military field use. Most were fullstocks with sling swivels, set triggers and nice sights. The Swiss retain their tradition of responsible firearms ownership and compulsory military training. Swiss citizens were well armed in the 1820-1870 era, as they are today. Perhaps this explains why a small and very rich country was never devoured by its aggressive neighbors during Europe's many wars, a tribute to a army of citizen soldiers!

Overall height is 4-3/8", width is 1-7/8", comb length is 3-1/2".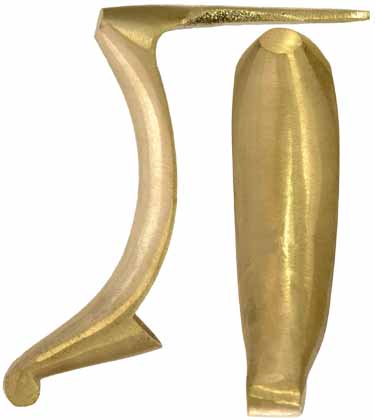 Track of the Wolf, Inc.
18308 Joplin St NW
Elk River, MN 55330-1773
Copyright © 2022Track of the Wolf, Inc.