U.S. Model 1855 Series of Small Arms,
by John Willyard
The Model 1855 series of small arms combined newly evolving technologies to create a miraculous new weapon for the United State that would remove the smooth-bored musket from the dominant position it held for so long. This hands-on guide used 580 color photographs to tell you the complete story of these intriguing arms, including all the markings and features that are so important to understand them. Hard bound 221 pages, color photos & illustrations, 8-3/4 x 11-1/4" format.

The Table of Contents includes the following:

Chapter 1 Building Blocks of the New Improved Small Arms
Chapter 2 Combining New Technologies
Chapter 3 Springfield Model 1855 Rifle Carbine
Chapter 4 Springfield Model 1855 Pistol Carbine
Chapter 5 Springfield Model 1855 Rifle Musket
Chapter 6 Harpers Ferry Model 1855 Rifled Musket
Chapter 7 Model 1855 Rifled Musket Socket Bayonet
Chapter 8 Harpers Ferry Model 1855 Rifle
Chapter 9 Harpers Ferry Model 1855 Sword Bayonet
Chapter 10 Springfield Model 1858 Cadet Rifle Musket
Chapter 11 Springfield Model 1858 Cadet Rifled Socket Bayonet
Chapter 12 Model 1855 Rifle Musket and Rifle Manufacturing and Quality Issues
Chapter 13 The Brown Raid and the Closing and Destruction of Harpers Ferry Armory
Appendix A
Appendix B
Appendix C
Appendix D
Appendix E
Appendix F
Endnotes
Index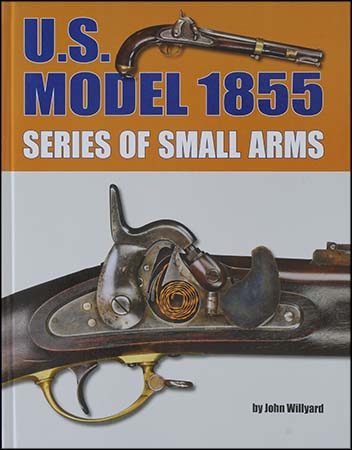 Track of the Wolf, Inc.
18308 Joplin St NW
Elk River, MN 55330-1773
Copyright © 2023Track of the Wolf, Inc.