Uses of Plants
by the Indians of the Missouri River Region
by Malvin Gilmore
This text describes the uses made of wild plants by the Plains natives. many of these ideas are applicable today. A study of the plants collected and cultivated for food, clothing, medicine, and ornamentation. Soft bound volume with 109 illustrations.

The Table of Contents includes the following:
Foreword
Preface
Introduction
Neglected Opportunities
Ethnic Botany
Influence of Flora on Human Activities and Culture
Influence of Human Population on Flora
Taxonomic List of Plants Used by Indians of the Missouri River Region
Ancient and Modern Phytoculture by the Tribes
Conclusion
Drawings
Glossary of Plant Names
Bibliography
Index


ISBN: 0-8032-7034-8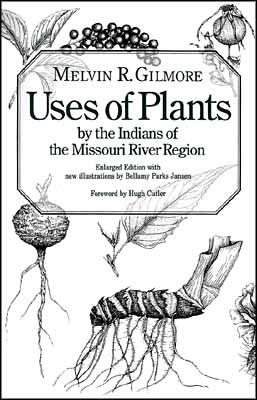 Track of the Wolf, Inc.
18308 Joplin St NW
Elk River, MN 55330-1773
Copyright © 2023Track of the Wolf, Inc.