Tidings from the 18th Century
by Beth Gilgun
Learn about 18th century living on Colonial American life style. This cache of knowledge is gleamed from her articles in Muzzleloader Magazine, with many new photographs and drawings to explain everything from choosing fabric, cutting and sewing garments, money in the Colonies, cooking, accoutrements needed to complete a trekker's outfit and much more. A must-have addition to your library. Soft cover, 285 pages, 8-1/2 x 11" format, profusely illustrated.

The Table of Contents includes the following:
Forward
Chapter 1 Basic Sewing
Chapter 2 Women's Clothing
Chapter 3 Men's Clothing
Chapter 4 Children's Clothing
Chapter 5 Accessories
Chapter 6 Keeping House
Chapter 7 To Market, To Market
Chapter 8 Daily Life
Afterward


ISBN: 1-880655-04-7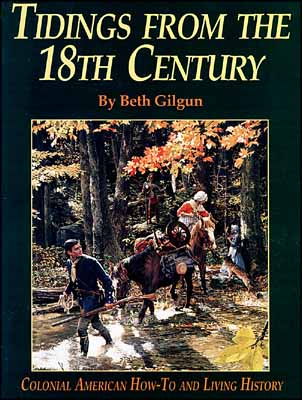 Track of the Wolf, Inc.
18308 Joplin St NW
Elk River, MN 55330-1773
Copyright © 2023Track of the Wolf, Inc.