Sharpshooter
Hiram Berdan, his famous Sharpshooters and their Sharps Rifles
by Wiley Sword
This story of the United States Sharpshooters begins with the inspired inventor who founded and commanded the famous unit, his handpicked soldiers who manned the ranks, and the innovative weapon, that they used with precision. No unit of the Civil War served with more effect, or won more renown, than Berdan's Sharpshooters. Hardcover, 7 x 10" volume of 96 pages.

The Table of Contents includes the following:
Preface
Part I Hiram Berdan - The Man
Part II Berdan's Sharpshooters - The Men
Part III The Berdan Sharps Rifles
Notes
Bibliography
Appendix A Diary (1864) of Private William B. Green, Co. G, 2d U.S.S.S.
Appendix B Report of Major George G. Hastings, 1st U.S.S.S., of the Battle of Chancellorsville, May 3, 1863
Index
Acknowledgments


ISBN: 0-917218-37-X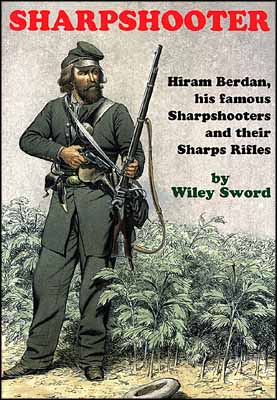 Track of the Wolf, Inc.
18308 Joplin St NW
Elk River, MN 55330-1773
Copyright © 2022Track of the Wolf, Inc.