Sketchbook '76,
by Robert Klinger & Richard Wilder
Soft bound collection of patterns and sketches of the wearing apparel and other accessories from the Revolutionary War era. Pattern instructions are given for leggings, trousers, shirts, coats, frocks, glasses, and accoutrements from the 1776 period.

The Table of Contents includes the following:
Hats and Caps
Stocks
Shirt
Waistcoat
Breeches, Trousers, Overalls
Coats
Rifle Frock or Shirt
Buttons
Buckles
Shoes, Half Gaiters, and Stockings
Haversacks and Knapsacks
Cartridge Boxes, Belts, Bayonet and Sword
Carriages
Cartridges, Screw Driver, Creepers
Knives
Axe and Tomahawk Heads
Fife Case
Canteens and Cup
Powder Horns
Folding Pike
Spectacles
Continental Line
Riflemen
Militia
Typical Arms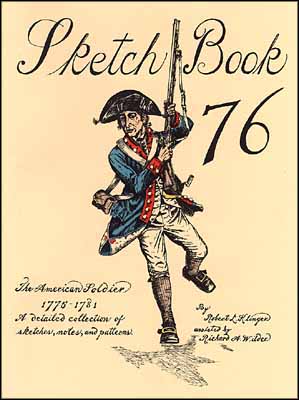 Track of the Wolf, Inc.
18308 Joplin St NW
Elk River, MN 55330-1773
Copyright © 2023Track of the Wolf, Inc.