Sketchbook '56
The Women of the French War Era,
1750-1769, with slightly damaged cover
by Ted Spring
Women's wear, underwear, aprons, and accessories of daily life, hats, hairstyles, and brief glimpses into the lives of women from the many social classes are included.

Your ladies will enjoy re-enactments with the gear in this book. Softbound, 8-1/2 x 11" volume of 80 pages, with color cover.

The Table of Contents includes the following:
Contents
Introduction
The Era
A Fashion Evolution
A Woman's Work
Provincial Officer's Wife
Feminine Education
Casual Robes
Bonded Farm Girl
Colonial Wear
Pockets, Bags
Scissors and Shoes
A Little Trivia
Trends and Period Notes
A Country Woman
Chemise and Corselets
A Woman's Shift
Small Things
Aprons
Capes, Wraps, Coats
A Surtout
Kerchiefs
Hats, Fans etc.
Hair Styles
Fabrics
Camp Women
The French
French Girls
References
A Note of Thanks
Other Books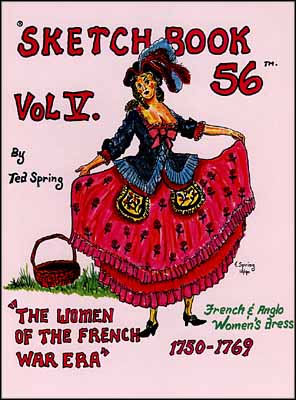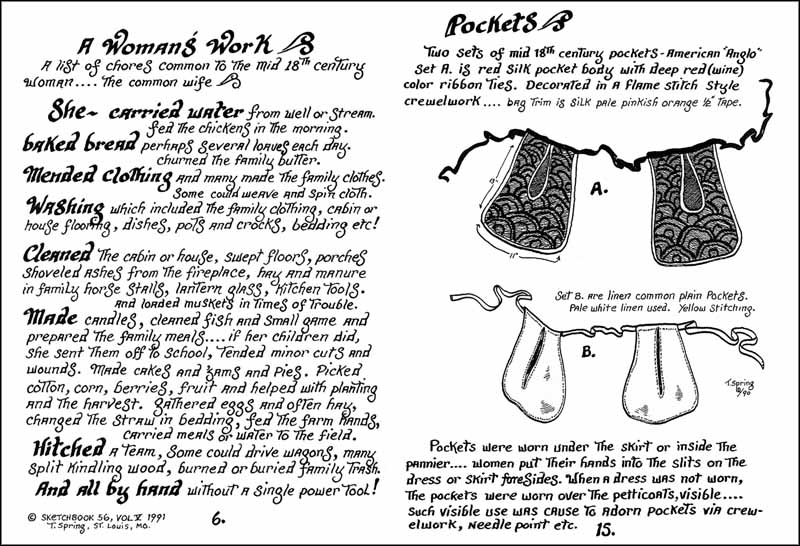 Track of the Wolf, Inc.
18308 Joplin St NW
Elk River, MN 55330-1773
Copyright © 2023Track of the Wolf, Inc.