Reloading Tools, Sights & Telescopes
for Single Shot Rifles
by Gerald O. Kelver
This book details the various types of hand reloading tools, and the sights and telescopes that have been used through the years on single-shot rifles. Many of the companies that produced these items, as well as individuals who custom made them, have been mentioned. An entire chapter has been devoted to the Schuetzen rifle. Valuable information from the writings of recognized experts like Ned H. Roberts, Harry M. Pope and H. Guy Loverin, has been included in the last four chapters. Profusely illustrated with photos and line drawings. Soft bound, 5-1/2 x 8-1/2" format, 163 pages.

The Table of Contents includes the following:
Chapter 1 Reloading Tools
Chapter 2 Ideal Reloading Tools
Chapter 3 Winchester Repeating Arms Company Reloading Tools
Chapter 4 Rifle Sights
Chapter 5 Telescopes Used on Single Shot Rifles

Buckeye Telescope
Rural Mfg. Co. of Rifle Telescopes
Duplex Telescope Sight
Lyman Gunsight Corporation
William Malcolm
Stevens Arms and Tool Company
J.W. Sidle
Fred L. Smith
Winchester Repeating Arms Co.
Wollensak
O.F. Mossberg and Sons, Inc.
John Unertl
J.W. Fecker Telescopes
Litschert Target Telescopes
John Jamieson and John Redfield

Chapter 6 Commercially Produced Sights and Reloading Tools

Bullard Repeating Arms Company
Lyman Gunsight Corporation
Marlin Firearms Company
Maynard Arms, Massachusetts Arms
Stevens Arms Company
E. Remington and Sons
U.S. Military Tools
Sharps Rifle Company
Whitney Arms Company
Winchester Repeating Arms Co. Sights

Chapter 7 Producers of Custom Sights and Reloading Tools

Belding & Mull
Brown's Variform Reloader
Otto A. Bremer
W. Milton Farrow
Deane W. King
Adolph O. Niedner
Harry M. Pope
George C. Schoyen and Axel Peterson
Sheard Sights
Wesson Target Rifles
J.D. Wilkinson
August and William Zischang
Modern Vernier Sights

Chapter 8 Facts and Hints about Schuetzen Rifles

Loading the Shell
The Rifle Bore
The Chamber
Cartridge Cases
Lead Bullets
Lubrication of Bullets
Shell Indentors
Shot Cartridges for Rifles
Powder Measures
Re and De Cappers
Bullet Seaters
The Palm Rest
Set Triggers
Cheekpieces

Chapter 9 Lead Bullets and Lubricating Wads by Ned H. Roberts
Chapter 10 Cast Bullet Loading by H. Guy Loverin
Chapter 11 Gunpowders and Primers
Chapter 12 Offhand Rifle Shooting by Harry M. Pope
Chapter 13 Rest Shooting by N.H. Roberts
Addenda
1991 Addenda
Bibliography


ISBN: 1-877704-21-0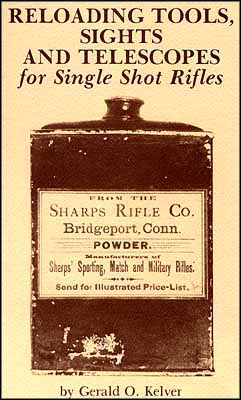 Track of the Wolf, Inc.
18308 Joplin St NW
Elk River, MN 55330-1773
Copyright © 2023Track of the Wolf, Inc.