Powder Horns and Their Architecture,
by Madison Grant
One of three popular books by Madison Grant, this volume is devoted to the most basic and necessary accoutrement of the muzzle loading longrifle, the powder horn.

Primitive hand made American powder horns, from the late eighteenth and early nineteenth centuries, are the main focus of this well illustrated book.

Hard cover, 8-1/2 x 11" format, 165 pages and over 300 illustrations. If you collect, or replicate old powder horns, this book is essential. Click ADD TO CART and place your order on-line, for same day shipment.

The Table of Contents includes the following:
The Squirrel Hunter
Title Page
Dedication
Introduction
Acknowledgments
Dating the Powder Horn
The Plain Eighteenth Century Powder Horn
Primitive Self Expression on the Horn
Retribution
A Turning Point
A Turning Point
A Study in Kinship
The Plain Nineteenth Century Horn
The Fabric Shoulder Strap
The Men Behind The Rifling Bench
As They Were
The Cannoneer
They Also Served
The Last Retrieve
The Paneled Powder Horn
The Horn with Bands, Either Applied or Integral
The Pocket or Priming Horn
Powder Horns on Shipboard
The Fox's Choice
The Screw Tip Powder Horn
Stain as a Decoration
The Masonic Emblem and the Horn
The Use of Brass Tacks
The Reprieved
Old Hickory
The Gunsmith's Home
The Cameo Type of Carved Decoration
A Study in Contrasts
The Double Horn
The Diamond Avalanche
Butt Plug Treatment Through Turning, Carving, or Painting
Picture Perfect
The Whimsical Touch
The Respite
Mechanical Spout Attachments
An Odd Couple
The Supply or Storage Horn
A Pair of Indian Horns
The Fur Trade and the Conquest of a Continent
The Prairie and the Shooting Stick
Some Thoughts About What Used To Be
Full Dress
The Queen Anne Style
The Hunting Horn
The Salt Horn
The Use of Geometric Designs
The Tin Container
The Powder Measure
Frizzen Sparks in the Snow
Early and Late
The Folding Spoon
Small Horn Objects
The Trail Breaker
The False Gobble
Horn and the Basic Liquid
Horn Cups
SECTION II

A Prince Among Powder Horns
Paint and the Powder Horn
Two Decades of Service
The Powder Horn as an Historical Document
The Tansel Hand

Bibliography
The Author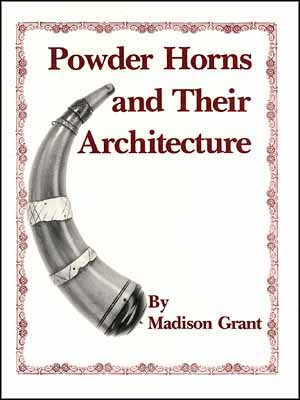 Track of the Wolf, Inc.
18308 Joplin St NW
Elk River, MN 55330-1773
Copyright © 2023Track of the Wolf, Inc.