Metal Weapons, Tools & Ornaments
of the Teton Dakota Indians
by James A. Hanson
This book is intended as both a guide to the identification of typical Teton metal objects and when and how they were used, and a study in the transition of the Teton Sioux Indians from a stone age people in the eighteenth century to a nation almost totally dependent by 1880 on white man's goods obtained from traders and through other channels. Soft cover, 118 pages, nearly 200 illustrations.

The Table of Contents includes the following:
List of Illustrations
Preface
List of Abbreviations for Sources and Credits
Chapter 1 Introduction
Chapter 2 Early Trade Goods
Chapter 3 Metal Weapons

Firearms

Northwest Guns
Trade Rifles
Breechloading Repeating Rifles
Breechloading Single-Shot Rifles
Pistols
Double-Barreled Shotguns

Arrowheads
Lance Heads
Knife Clubs
Tomahawks
Swords

Chapter 4 Metal Tools

Knives
Axes and Hatchets
Cooking Utensils

Kettles
Skillets and Grills
Coffee Pots and Cups

Leatherworking and Sewing Tools

Awls
Hide Scrapers
Scissors
Needles
Quill Flatteners

Hoes and Spades
Firesteels
Horse Equipment
Files
Miscellaneous Metal Tools

Chapter 5 Metal Ornaments

Earbobs and Dangles
Rings
Beads
Bells
Arm Bands and Bracelets
Lead
Peace Medals
Brass Tacks
Pectorals and Crosses
Hairplates
Belt Disks and Drops
Chain and Wire
Religious Objects
Buttons
Miscellaneous German Silver Ornaments
Indian Police Uniforms

Selected Bibliography
Index


ISBN: 0-912611-01-4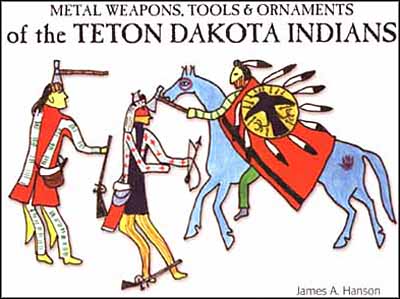 Track of the Wolf, Inc.
18308 Joplin St NW
Elk River, MN 55330-1773
Copyright © 2022Track of the Wolf, Inc.