| | |
| --- | --- |
| Memoir of a Revolutionary Soldier, The Narrative of Joseph Plumb Martin | |
A wide-eyed teenager during most of the Revolutionary War, Joseph Plumb Martin left his grandfather's farm in Connecticut in 1775 and spent much of the next eight years with the Continental Army, crisscrossing the mid-Atlantic states and returning north after the British surrender at Yorktown. His notes, penned when he was seventy, recount in grim detail his harrowing experiences during the conflict; the staggering losses in human life, the agony of long marches, constant gnawing hunger, bitter cold, and the fear of battle, as well as a warts-and-all view of military leaders. Balancing these brutal wartime experiences are lively accounts of hunting, fishing, and other diversions, including an occasional encounter with a "saucy miss".

Paper back, 166 pages.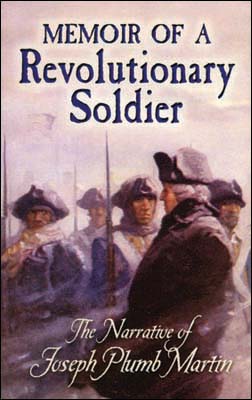 Track of the Wolf, Inc.
18308 Joplin St NW
Elk River, MN 55330-1773
Copyright © 2023Track of the Wolf, Inc.