Major Ned H. Roberts and the Schuetzen Rifle
by Gerald O. Kelver
A compilation of writing on the Schuetzen and other single-shot rifles, from the writings of Major Ned Roberts, first published in 1951. This second edition covers every aspect of the target game, from its history to information on some of the men who came to prominence in the manufacture and shooting of them. This book includes detailed information on loading and firing the Schuetzen rifle, and the many accessories developed for it. An informative book for the shooter who would try this difficult game of offhand shooting. Softbound, 5-1/2 x 8-1/2" format of 122 pages, with a dozen illustrations.

The Table of Contents includes the following:
Memoriam
Concerning the Frontispiece
Remarks of the Editor
Chapter I The Match, Target or Free Rifle
Chapter II Shooting the Match, Target or Schuetzen Rifle
Chapter III The Schuetzen Rifle - Early Models
Chapter IV The Rifles of Yesterday - Target Rifle
Chapter V The Rifles of Yesterday - Hunting Rifles
Chapter VI The Sharps Rifle of the Buffalo Days
Chapter VII Long Range Rifles of Yesterday
Chapter VIII Small Bore Rifles Fit to Shoot
Chapter IX The Farrow Rifles
Chapter X Old Time Telescope Sights
Chapter XI Loads for the Match, Free, or Schuetzen Rifle
Appendix A Letters from Major Roberts
Appendix B Bullet Lubricants - From Various Sources


ISBN: 1-877704-22-9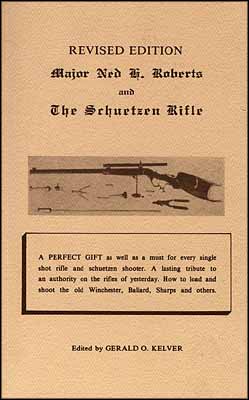 Track of the Wolf, Inc.
18308 Joplin St NW
Elk River, MN 55330-1773
Copyright © 2023Track of the Wolf, Inc.