Real Advice from 1894, Marriage and Love,
-Instructions for Females on Courtship and Matrimony,
with Tips to Discourage Sexual Advances from Husbands-
Real advice on courting, marriage, sex and morality that has turned seriously funny with age. Marriage & Love is a gem of Victorian advice on marriage, immoral conduct and what to look for in a spouse. Here is a potpourri of counsel on such matters as wooing and courting, determining the character of a potential mate by hair color, eye color, nose type, laugh and height; how to dress up, spruce up and be on the alert; and encouraging and avoiding sex with your husband.

Hard cover, 4-1/2" x 7-1/4" format, 96 pages.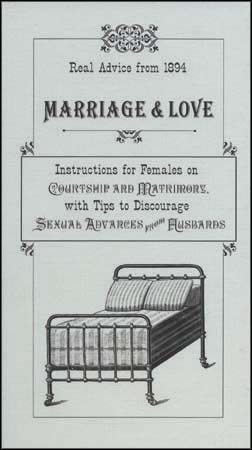 Track of the Wolf, Inc.
18308 Joplin St NW
Elk River, MN 55330-1773
Copyright © 2021Track of the Wolf, Inc.