NEW updated Volume -Traditional Skills of the Mountain Man
A Fully Illustrated Guide to Wilderness
Living and Survival Skills
by David Montgomery
Filled with valuable information for hobbyists, survival enthusiasts, family campers-and everyone who enjoys outdoor life, Mountainman Crafts & Skills is the essential illustrated guide to wilderness living and survival.

How to make your own clothing, shelter, and equipment are all covered in step-by-step detail-through illustrations by the author himself. Learn how to make and use hunting tools and utensils, wild game traps, mountain man clothing, powder flasks and horns, tents, deer-horn jewelry, and much more. Soft cover, 240 pages.

The Table of Contents includes the following:
Chapter 1

The Work Area
Tools and Equipment
Suggested Work Area for Mountain Man Crafts
Tanning Tools
Clothing-Making Tools
Tools for General Craft Work
Traps
Tools for Tanning Hides

Chapter 2

Types of Traps
Setting Your Traps
Trapping Muskrat
Trapping Beaver
Beaver Dam Set
Beaver Run Set
Beaver Lodge Set
Scent Set
Bank Hole Set

Chapter 3 Buckskin and Fur Hide Tanning

Buckskin Tanning
Skinning Muskrat and Beaver
Fur Tanning
Making Rawhide

Chapter 4 Making Mountain Man Clothing

Buckskin Shirt
Cotton or Muslin Shirts
Mountain Man Pants
Trapping Pants
Buckskin Leggings
Blanket Leggings
Buckskin Dress
Sioux Indian Dress
Moccasins
One-Piece Plains Moccasin
Apache Style Moccasin
Wool Booties for Moccasins
Two-Piece Plains Moccasins
Buckskin Coat, Lewis-and-Clark Style
Capote (Blanket Coat)
Belts and Sashes
Beaver Mittens
Snowshoes

Chapter 5 Rifles, Knives and Throwing Ax

Rifles
Rifle Building
Shooting Accessories
Short Starts
Wooden Short Start
Horn-Handled Short Start
Cleaning Your Rifle
Black Powder Safety
Mountain Man Shoot
Shoots
Knives
The Throwing Ax
Rifles, Knives and Hatchets

Chapter 6 Mountain Man Hats

Simple Fur Cap with Ear Flaps
Coon-Skin Cap
Beaver Felt Hat
Other Types of Trappers Hats

Chapter 7 Homemade Knives
Chapter 8 Powder Flask and Horns

Leather Powder Flask
Powder Horns
Flintlock Primer Horns

Chapter 9 Scrimshaw

Fur Trapping Area for Scrimshaw
Forts for Scrimshaw
Animals for Scrimshaw

Chapter 10 Deer and Cow Horn Uses

Bone and Horn Use
Deer Horn Jewelry
Horn Powder Measure

Chapter 11 Pouches

Possible Bag
Buckskin Strike-A-Light Pouch
Buckskin Neck Pouch
Rawhide Bullet Pouch
Bullet Pouches

Chapter 12 Parfleches

Rawhide Medicine Parfleche

Chapter 13 Scabbards

Knife Scabbard
Blanket Scabbard
Leather Scabbard

Chapter 14 Beadwork
Chapter 15 Quillwork

Picking and Dyeing Porcupine Quills

Chapter 16 Firemaking
Chapter 17 The Tipi

Tipi Construction
Smoke Flap Pole Pocket
Dewcloth Liner
Ozan
Stripping Poles
Tipi Pole Racks
Latrine
Fire Pits for the Tipi
Tripod for Cooking
Metal Tipi Fire Pit
Fire Pit Accessories
The Tipi

Chapter 18 Baker's Tent and Snow Cave
Chapter 19 Willow Backrest Chair
Chapter 20 Trade Box
Chapter 21 Grub Box
Chapter 22 Eating Utensils and Cookware

Steel Knife, Fork and Spoons
Eating Utensils
Cookware
Forging a Knife
Cow-Horn Spoon

Chapter 23 Mountain Man Foods
Chapter 24 Rendezvous Time

Rendezvous Today
Black Powder Shoots
Trading Sessions
Clubs

Chapter 25 Mountain Man Stories

The Grandmas' Bear Hunt
The Cougar Bear Hunt
Herb The Great Beaver
Jedediah Smith, Trapper and Explorer
Hugh Glass, "Almost Bear Meat"
James P. Beckworth, "Trapper and Chief of the Crows"
Jim Bridger

Chapter 26 Glossary
Chapter 27 Annotated Bibliography of Selected Books
Chapter 28 Appendix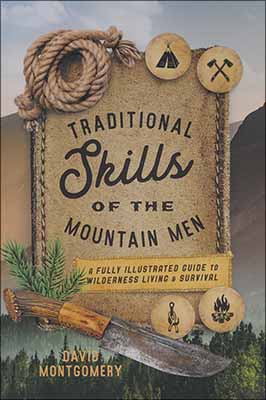 Track of the Wolf, Inc.
18308 Joplin St NW
Elk River, MN 55330-1773
Copyright © 2023Track of the Wolf, Inc.