More How-to's for the Black Powder Cartridge Rifle Shooter
by Paul Matthews
Contains fine points not covered in Matthews' other black powder books, such as minute of angle, flash hole size, and controlling recoil. Soft cover, 6 x 9" format of 160 pages.

The Table of Contents includes the following:
Acknowledgments
Foreword
Chapter 1 It's a Head Game
Chapter 2 What is a Minute of Angle?
Chapter 3 Practice with the Black Powder Cartridge Rifle
Chapter 4 Controlling Recoil
Chapter 5 Pay Attention to Details
Chapter 6 Small Flash Holes and Small Rifle Primers
Chapter 7 Getting Started
Chapter 8 Cleaning the Black Powder Cartridge Rifle
Chapter 9 Getting the Most from Your Rifle
Chapter 10 Why the Spirit Level?
Chapter 11 Coating Bullets with Graphite
Chapter 12 Keep a Record
Chapter 13 The Nose-Pour Bullet Mould
Chapter 14 The Nose-Heavy Bullet
Chapter 15 A Look at Mirage
Chapter 16 Bigger, Heavier and Faster is Better


ISBN: 978-1-879356-65-8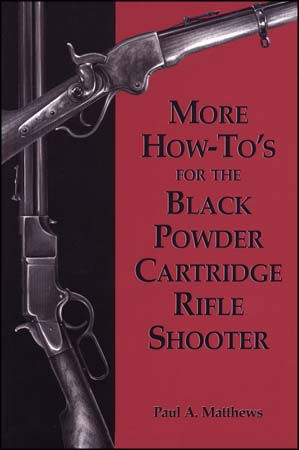 Track of the Wolf, Inc.
18308 Joplin St NW
Elk River, MN 55330-1773
Copyright © 2023Track of the Wolf, Inc.