Loading & Shooting Traditonal Schuetzen Rifles,
by R. Wright
A beginners guide to loading and shooting traditional Schuetzen rifles.

Chapters include:


What are Traditional Schuetzen Rifles

Hooked Buttplates
Set Triggers

Breif History
The Schuetzen Game Today

Offhand Shooting
Bench Rest Shooting
Targets
Scoring
Range Etiquette
I'm Not Stringing You Along
Schuetzen Medals

Single Shot Actions

Selecting a Rifle Action
Ballard
Highwall
Stevens 44 1/2
Remington-Hepburn
1878 Sharps Borchardt
Winchester Low Wall
Stevens 44
Sharps 1874
Remington Rolling Block
Maynard 1882
And More!




Paper back, spiral bound, 5-1/2" by 8-1/2" format, 242 pages, black & white photos. By Randolph S. Wright.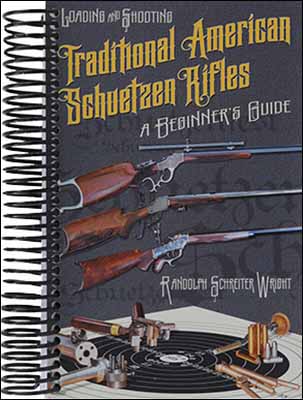 Track of the Wolf, Inc.
18308 Joplin St NW
Elk River, MN 55330-1773
Copyright © 2023Track of the Wolf, Inc.