Lock, Stock, & Barrel,
Volume 1
by R. H. McCrory
Practically every repair or restoration problem encountered with the muzzleloading gun is addressed. A partial list of topics include: Stock repair shows several typical damages, breaks, gouges, missing wood, illustrated and repaired. Wood finishing, cleaning, refinishing, spot finishing after local repairs. General information on metals, basics about metals used in old guns, iron, brass, hardening, tempering, and annealing. Lock repairs, typical lock faults and how to repair them. Barrel work, unloading, cleaning, removing breech plugs, lugs and sight. What to work on and what to leave alone. Soft cover format, 5 x 8" of 122 pages with 175 illustrations.

The Table of Contents includes the following:
Introduction
Stock Work

Major Breaks
Missing Wood
Inlay Repairs
Split Forend
Lengthen Forestock
Dent Removal

Wood Finishing

Cleaning
Refinishing
Bumps and Warpage
Staining
Spot Refinishing
Sealing

Metals-General

Steel
Annealing
Hardening
Tempering-Heat Treating
Brass
Annealing-Hardening
Castings

Welding and Soldering

Soldering
Welding
Silver Soldering

Screws

Figuring Out Threads
Making Screws
Worn Threads
Use of Taps and Dies
Removing Broken Taps
Screw Removal

Lock Repairs

Broken Sear
Tumbler Notches
Tumbler Shaft
Refacing Frizzens
Spring Replacement
Loose Hammer

The Missing Lock

Replacing a Flintlock
Replacing a Percussion Lock
Fitting Drum and Nipple

Reconversion to Flintlock

Lockplates
Pans
Frizzen
Frizzen Spring
Hammer Fitting
Top Jaw Fitting
Closing Drum Hole
Vent Hole

Barrel Work

Unloading
Removing Breechplug
Bore Cleaning
Barrel Relining
Crown Muzzle
Lugs and Sights
Ramrod Ribs and Pipes
Dent Removal

Metal Finishing

Rust Removal
Wire Brushing
Disc Sanding
Draw Filing
Brass-Cleaning and Polishing
Buffing
Spot Refinishing
Browning

Disassembly Notes and Miscellaneous Repairs

Pins-Keys
Barrel Band
Barrel Removal
Lock Removal
Spring Removal
Nipple Removal
Making a Hammer
Ramrod Pipes
Brass Triggerguard Repairs
Ramrods
Set Triggers

Proof Testing and Safety
Fake Detection
Ethics

NRA Code for Gun Collectors

Note to Readers


ISBN: 1-913150-68-1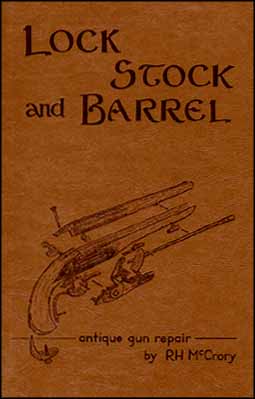 Track of the Wolf, Inc.
18308 Joplin St NW
Elk River, MN 55330-1773
Copyright © 2023Track of the Wolf, Inc.