Jedediah Smith and the Opening of the West
by Dale Morgan
Over 450 pages alive with characters, sketches of Jed Smith, Mountain Men, and the vast hostile land they move over. A reconstruction of a vital and commanding figure. 23 illustrations.

The Table of Contents includes the following:
Chapter 1 Young Man of Enterprise
Chapter 2 The Hunters and the Hunted
Chapter 3 The Missouri Legion
Chapter 4 South Pass
Chapter 5 The Adventures of Hugh Glass - and Others
Chapter 6 The Stakes of the Columbia
Chapter 7 Action on the Fur Frontier
Chapter 8 Rendezvous: 1825
Chapter 9 Partner in the Fur Trade
Chapter 10 The South West Expedition
Chapter 11 Rendezvous: 1827
Chapter 12 The California Quagmire
Chapter 13 The Umpqua Massacre
Chapter 14 "Good, Merchantable Beaver Fur"
Chapter 15 The Things of Time
Appendix A
Appendix B
Acknowledgments
Notes
Index


ISBN: 0-8032-5138-6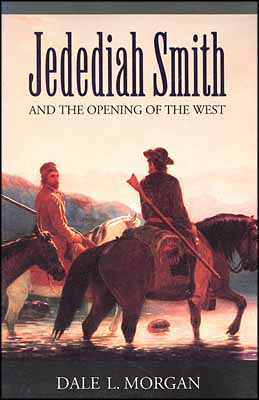 Track of the Wolf, Inc.
18308 Joplin St NW
Elk River, MN 55330-1773
Copyright © 2022Track of the Wolf, Inc.