Gun Powder Cans & Kegs,
Volume 2,
by Ted & David Bacyk & Tom Rowe
Old powder cans and kegs are colorful, historical and highly collectible, catering to a variety of interests. The Bacyk collection is probably the most extensive assemblage of powder cans, kegs and related memorabilia in existence. The quality, rarity and scope make this collection extraordinary. To date there have been minimal references for these collectors to determine rarity or value of cans and kegs. This book is focused on the smaller companies, the retailers, and the agents that were such a important part of the gunpowder trade. Hardcover, 312 pages, full color.

The Table of Contents includes the following:


Foreword
Maine

Swett, L & Co.
Tileston & Whipple
Whipple, Oliver M.
Marble, J.C.
Marble E. H.
Paris Powder Co.
Warren Powder Mills

Oriental Powder Co. & Mills
Hercules
Connecticut

Andrus & Naedele
Eaton, Chase & Co
S. Gullit & Co.
Humprhreys & Co.
Kellog, Alfred A.
Sharps Rifle Co.
Storrs & Candee
Swett, Higley & Co.
W.A. & F.E.

Massachusetts



Acton Powder Co.
American Cynamid
Aldrich, H.B.
Brackett
Clark & Lewis
Davis, J.P.
Gibson, M.
Fox, Lucious & Co.
Harris, Jusdon D.
Haynes, Albert
Kirkwood, David
Knowlton, F.R.
Lovell,John P.
Palmer, A. C.
Read, William
Saunders, W
Slingsby Brothers
Southwick Mass. Mills



Antego
Loomis & Fowler
Rockwell & Moseley
H. Rowell
Rowell, J.E.
Smith's
Smith & Loomis
Tyron, Tuller & Co.

Thowbridge, J.S.
Tinker, E.R.
Tyron C.
Walker, P.H.

Mid West

Eaton F.E.
Economic
Equitable Powder Co.
Illinois Powder Co.
Kindler, Vincent
Lanerson, D.H.
New York Powder Mills
Powell & Clement
Rood, E.A.
Rummell, A.L.
Sycamore Mills
Walthausen, F. V.
Western Powder Co.

New Hampshire

Burns, G.W. & I. J
W.R. Powers
Mathewsons
Alvin White

New Jersey

American E.C. Powder Co.
Leonard

New York State

American Wood Powder Co.
Boyd Bros.
C.L. & Co.
Clements, G.
Dittmar, Carl
Griswold, J.D.
More, W. C.
Overbaugh, C.E.
Pheonix Powder Co.
Requa & Wetmore
Savage Arms Co.
Schaghticoke

Masters, Swift & Co.
Lomis, Swift & Masters
Swift, Bliss, & Greeley
Hoosic

Shverling, Daly & Gales
Scott, Franklin, R. H. & W.J.
Smith J.
Schroeder, Fr.
Styles, J.P.
Throop, O.B.
Von Lengerke & Detmold

Pennsylvania, Maryland, & Rhode Island

Beatty (Md.)
Bellona (Md.)
Cressona Powder Co.
Dreisbach, S.K.
Daman, H.M.
Economy Powder Co.
Jacoby Mills
Krider, John
Pope
Victorite Powder Co.

Vermont

Robin Hood
Bennington Powder Mills
Tiger Mills
Empire Mills
Quackenbush, Steire& Armstrong
S. Tryon & Co.
Wead Hardware

California Companies

California Powder Works
Giant
U.S. Smokeless Powder Co.
Utah Powder Co.

Unknown
Index
Ohio Companies
Miami Powder Co.
Austin Powder Co.
Cleveland Powder Co.
King's Great Western & King
Laflin & Rand
Rogers
Laflin
Laflin & Smith
Laflin, Smith & Boies
Smith & Rand
Laflin & Rand
Index


ISBN:1-884849-29-6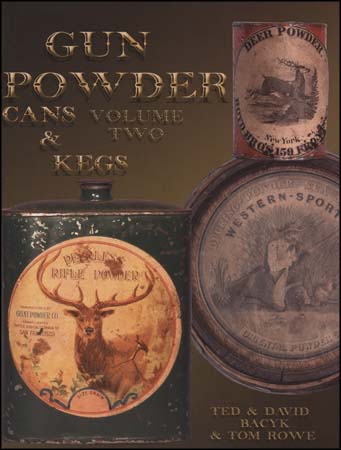 Track of the Wolf, Inc.
18308 Joplin St NW
Elk River, MN 55330-1773
Copyright © 2023Track of the Wolf, Inc.