Forty Years with the .45-70
Revised Edition
by Paul A. Matthews
The authors personal experiences with a number of different .45-70 rifles over the past 4 decades. Soft cover, 184 pages.

The Table of Contents includes the following:
Acknowledgments
Introduction to First Edition

Chapter 1 The Seed Is Planted
Chapter 2 The Search
Chapter 3 The Gould Bullet
Chapter 4 The Postell Bullet and a Springfield
Chapter 5 Back to the Gould Bullet
Chapter 6 Jacketed Bullets and a Few Deer
Chapter 7 A Question of Pressure
Chapter 8 Multiple Bullet Load
Chapter 9 Looking for a Single Shot
Chapter 10 The Two Rugers
Chapter 11 More Deer with the No. 1
Chapter 12 Back to the Ruger No. 3
Chapter 13 Search for a Cast Bullet
Chapter 14 RCBS, Old West and Hoch Molds
Chapter 15 Paper Patched Bullets
Chapter 16 Deer and Wild Boar
Chapter 17 Patching Grooved Bullets
Chapter 18 Other Molds and Loads
Chapter 19 Powders
Chapter 20 The Final Word
Chapter 21 Letters

Addendum - Six More Years
Introduction to Addendum

Chapter 22 Back to a Lever Rifle - the Marlin 1895SS
Chapter 23 The Navy Arms Buffalo Rifle
Chapter 24 A New Long-Range .45-70 Rifle


ISBN: 0-935632-84-0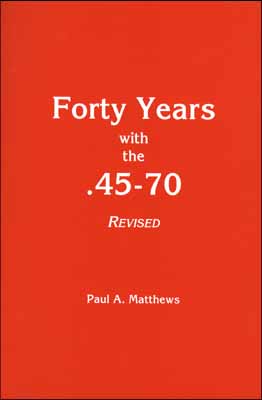 Track of the Wolf, Inc.
18308 Joplin St NW
Elk River, MN 55330-1773
Copyright © 2023Track of the Wolf, Inc.