French Military Arms and Armor in America
1503-1783
by Rene Chartrand
A comprehensive guide to the military weapons and armor used in New France. Muskets, Swords, Pistols, Bayonets, Polearms and More! From soldiers to sailors to woodsmen and buccaneers, one of Canada's premier historians tells us the story of how they armed during the Colonial Era and in the American Revolution. Soft Cover, 8-1/2 x 11" format, 215 pages with black and white photos and illustrations.

The Table of Contents includes the following:
Acknowledgments
Preface
Introduction
Measurements
Chapter 1 Explorers and Corsairs 1500
Chapter 2 Early Settlements 1604-1663
Chapter 3 Royal Government 1664-1674
Chapter 4 Troupes de la Marine 1674-1713
Chapter 5 Troupes de la Marine 1714-1769
Chapter 6 Artillerymen 1500's-1763
Chapter 7 Volunteers, Militiamen and Sailors 1660's-1763
Chapter 8 Metropolitan Infantry 1746, 1755-1763
Chapter 9 The Era of the American War of Independence 1760s-1780
Chapter 10 Weapons Furnished to Allied Powers
Chronology
Appendices
Glossary
Select Bibliography
Endnotes
Index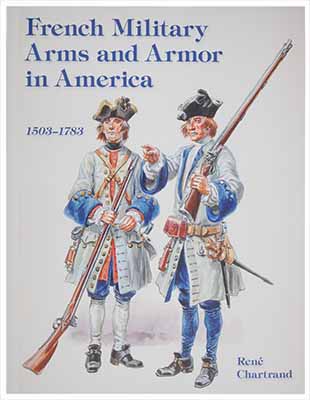 Track of the Wolf, Inc.
18308 Joplin St NW
Elk River, MN 55330-1773
Copyright © 2023Track of the Wolf, Inc.