The Eagle on U.S. Firearms
by John W. Jordan
Stylized eagles have been stamped on government owned or manufactured firearms in the United States since the beginning of our country. It seems that little or no attempt was made to standardize the design of the eagle, hence many different birds appear on the muskets, rifles, and pistols made by government arsenals or private contractors. This book lists and illustrates the various eagles in an informative manner. Most of the national armory examples are represented, as well as early contract arms, particularly limited production. Soft cover, 8-1/2 x 11", 140 pages, over 200 illustrations.

The Table of Contents includes the following:
Chapter 1 Gun Marking
Chapter 2 The U.S. Seal
Chapter 3 The Eagle On U.S. Firearms
Chapter 4 The Eagle On The Springfield
Chapter 5 The Harpers Ferry Eagles
Chapter 6 Contractors' Eagle
Chapter 7 Pistol Birds
Chapter 8 Miscellaneous Eagles
Chapter 9 Sleuthing With Eagles
Index


ISBN:1-877704-12-1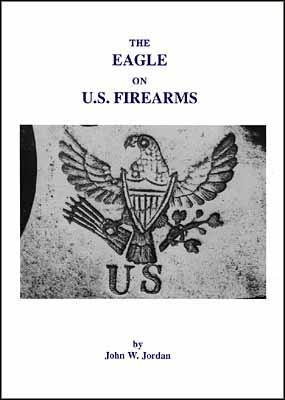 Track of the Wolf, Inc.
18308 Joplin St NW
Elk River, MN 55330-1773
Copyright © 2023Track of the Wolf, Inc.