Distaff Sketchbook,
by Robert Kinger
The ladies companion book to Sketchbook '76, with many differing styles and social positions represented. Ladies garment sketches and patterns are a bit more complex than the male counterparts, and this is a bit larger volume the Sketchbook '76. Appropriate materials and techniques for the construction of each type of garment are listed in detail.

The Table of Contents includes the following:
Aprons
Belts - Girdles
Bodice - Waistcoat
Bonnet
Breeches
Buckles
Cape - Manteau
Caps
Calash
Caraco Jacket
Chemise - Smock - Shift
Childrens Cloths
Coats - Riding
Cloaks
Corsets
Descriptions of dress
Gloves
Gowns - Dresses
Hair Pins
Handbag
Hats
Hooded Jacket
Jackets
Kerchiefs
Mantle
Materials - Cloth used in 18th Century
Mittens - Mitts
Muff
Patches, Pins, Pomanders
Patterns
Petticoat
Pockets
Purse
Riding Clothes
Rumps - Buns - False Hips
Shirt
Shoes
Stockings
Waistcoat, Riding
Winter Dress
Working Dress - Camp Woman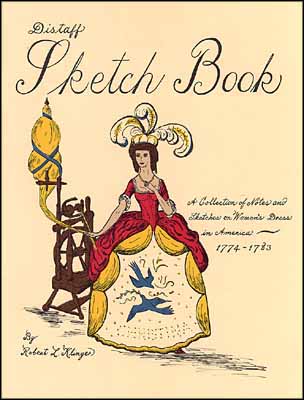 Track of the Wolf, Inc.
18308 Joplin St NW
Elk River, MN 55330-1773
Copyright © 2023Track of the Wolf, Inc.