Country Tools, and How to Use Them,
by Percy W. Blandford
Written by a master craftsman, this profusely illustrated guide to early tools and their functions depicts and describes scores of devices — from hammers, gouges, planes, and saws to tools for blacksmithing, spinning, weaving, and baking. An invaluable asset for hobbyists, collectors, and lovers of traditional ingenuity and know-how.

Soft bound, 224 pages, black & white photographs and illustrations.

The Table of Contents includes the following:
Chapter 1 Craftmanship
Chapter 2 Axes
Chapter 3 Mallets & Hammers
Chapter 4 Knives
Chapter 5 Chisels
Chapter 6 Saws
Chapter 7 Planes
Chapter 8 Making Holes
Chapter 9 Holding and Handling
Chapter 10 Measuring and Marking-out
Chapter 11 Turning and Round Work
Chapter 12 Rural Enginering
Chapter 13 Agricultural Hand Tools
Chapter 14 Fabric and Fibrous Crafts
Chapter 15 Other Tools

Appendices:

Hardening, Tempering, and Annealing
Tool Sharpening
Timber
Craft Names

Bibliography
Index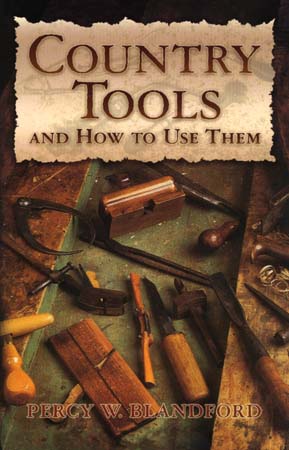 Track of the Wolf, Inc.
18308 Joplin St NW
Elk River, MN 55330-1773
Copyright © 2021Track of the Wolf, Inc.