Casting Premium Bullets for the Black Powder Cartridge Rifle
by Paul Matthews
This book takes the reloader beyond the casting of bullets for rifle or handguns and it the realm of big-bore, top-of-the-line bullets for competitive long range accuracy. Soft cover, 6 x 9" format of 136 pages.

The Table of Contents includes the following:
Preface
Chapter 1 Do I Need Premium Cast Bullets?
Chapter 2 What Is a Premium Cast Bullet?
Chapter 3 Should I Segregate My Bullets by Weight?
Chapter 4 Safety While Casting
Chapter 5 Maintaining the Bullet Mold While Casting
Chapter 6 Feeding the Riser
Chapter 7 Constant Temperature and Heat Source
Chapter 8 How to Warp a Bullet Mold!
Chapter 9 Making a Beeswax Lube Pencil
Chapter 10 How to Improve the Cutoff Plate
Chapter 11 How to Make a Bullet Casting Board
Chapter 12 The Custom Bullet Mold
Chapter 13 Nose-Pour Versus Base-Pour
Chapter 14 The Future


ISBN: 1-879356-58-9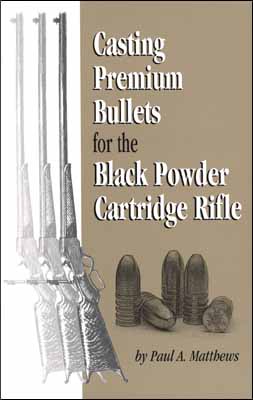 Track of the Wolf, Inc.
18308 Joplin St NW
Elk River, MN 55330-1773
Copyright © 2023Track of the Wolf, Inc.