Cast Bullets for the Black Powder Cartridge Rifle
by Paul Matthews
Finding the right cast bullet to perform in your black powder cartridge rifle can be a pursuit of disappointment or reward. Matthews puts into perspective the tools and techniques used to make your cast bullet shooting a success. Soft bound volume of 133 pages.

The Table of Contents includes the following:
Acknowledgments
Foreword
Chapter 1 Things You Should Know About Cast Bullets
Chapter 2 Should You Use a Paper Patched Bullet?
Chapter 3 Is Heavier Better?
Chapter 4 The Lyman 457125 with Shades of Indians and Black Powder Smoke
Chapter 5 The Lyman Schmittzer Bullets
Chapter 6 What's Wrong with the Old Postell Bullet?
Chapter 7 The RCBS Black Powder Silhouette Bullets
Chapter 8 The Redding-SAECO Black Powder Cartridge Bullets
Chapter 9 The NEI .458-560-PB, a New Concept for the Black Powder Cartridge Rifle
Chapter 10 Selecting the Bullet Mould
Chapter 11 How to Dress Your Bullet Mould
Chapter 12 Should You Use a Hard Alloy Bullet?
Chapter 13 How to Use the Greenhill Formula with Cast Bullets
Chapter 14 How to Find the Minute-of-Angle Bullet


ISBN: 1-879356-45-7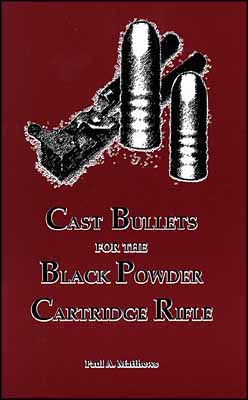 Track of the Wolf, Inc.
18308 Joplin St NW
Elk River, MN 55330-1773
Copyright © 2023Track of the Wolf, Inc.