British Single Shot Rifles, Volumer 7
Rook, Rabbit, & Miniature Rifles
Early Types & Hammer Models,
by Winfer & Tom Rowe
This volume covers the single shot rifles that were made in the greatest quantities in England. Covers early percussion, air and needle rifles and why they are important to the rifle trade. Includes high quality color photos of fine rifles.

Chapters include:

The Rook Rifle, Air Rifles

Early Types of Rifles, Percussion, Pin Fire

Needle Fire Rifles

The Metallic Cartridge Rifles

Top Lever, Back Action Designs

Center Hammer, Sliding Bold Actions

Center Hammer Rifles

Unusual & Foreign.

Hard cover, 11-1/2" x 8-3/4" format, 404 pages, color photos. By Wal Winfer & Tom Rowe.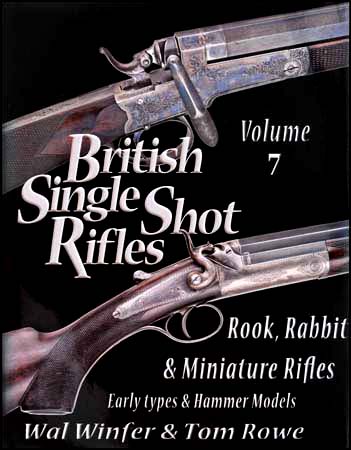 Track of the Wolf, Inc.
18308 Joplin St NW
Elk River, MN 55330-1773
Copyright © 2023Track of the Wolf, Inc.