| | |
| --- | --- |
| Black Powder, Pig Lead and Steel Silhouettes by Paul Matthews | |
This book contains specific information for shooters to gain more understanding on the operation and approach to accurate and reliable loading and shooting. Soft bound volume of 122 pages.

The Table of Contents includes the following:
Dedication
Preface
Chapter 1 Over the Cross-Sticks
Chapter 2 Observations of the Bullet
Chapter 3 Barrels and Chambers
Chapter 4 Shooting for a Group - How Good Is It?
Chapter 5 Light and Mirage - with a Transit
Chapter 6 How to make a High-Capacity Casting Dipper
Chapter 7 Primer Wads - How Good Are They?
Chapter 8 Powder Compression - How Much?
Chapter 9 Neck Tension - How Little?
Chapter 10 Should You Season the Barrel?
Chapter 11 Make Your Own Bullet Lubricant
Chapter 12 How to Make a Lube Mould
Chapter 13 Tapered Bullets and Throats
Chapter 14 Reflections


ISBN: 1-879356-60-0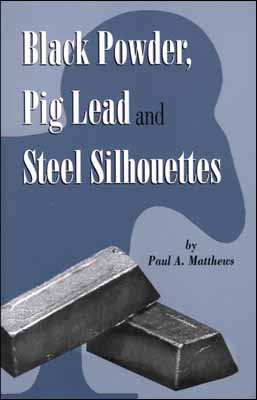 Track of the Wolf, Inc.
18308 Joplin St NW
Elk River, MN 55330-1773
Copyright © 2023Track of the Wolf, Inc.