The Book of Forging,
Basic Techniques & Examples,
by Karl Gissing
This quick-reference overview explains the basic of all aspects of blacksmithing. Focusing on the use of only the most essential tools and equipment, it keeps info simple for the beginner and features mores than 450 photos. Summaries cover the tools of forging, their uses, and the essential equipment in the work space; the differences amount free-form forging, drop forging, industrial, hot-work, and cold work; the steps of the process, like bending, joining, riveting, welding, chiseling off, and splitting; and the chemistry of iron and steel. The book also shows, in quick-view format, 44 types of forged items, from hooks to tool handles, with comments on their forged features. Hard bound, 157 pages, 81/2" by 9-1/2" format, color images.


The Table of Contents includes the following:
Foreword
Forging

The History of Forging
Forging Techniques
Free-Form Forging
Drop Forging
Cold Work Forging
Industrial Forging
Basic Tasks of Free-Form Forging
Upsetting

Upsetting Process
Upsetting on an Anvil
Upsetting in a Vise
Upsetting in a Perforated Plate

Flattening
Spreading
Drawing out a Form
Twisting (Torsion)

Examples of Different Ways to Twist a Workpiece

Bending
Joining
Types of Rivets
Examples of Rivet Joints

Screwed Joint
Soldered Joint
Brazing
Soldering
Welding
Forge Welding
Gas Welding
Arc Welding
Making a Collar
Crimping
Punched Joints

Cutting

Chiseling Off
Splitting
Bench Shears
Abrasive Cutting Machine
Oxyfuel Cutting
Plasma Cutting

Fullering

Equipping the Workshop

Heating Facilities
Coal-Fired Forge
Gas Forge
Mobile Gas Forge
Field Forging (Mobile Forging)
Oxyfuel Tools
Propane Gas Jet
Hammer and Anvil
Hammer and Anvil
Anvil
Hammers
Bench Vise
Tongs and Pliers
Locking Pliers
Auxiliary Equipment
Swage Block and Die Plate
Fire Tools
Hydraulic Press
Twisting Wrench
Thickness Gauge
Anvil Attachments (Anvil Stakes)
Files
Welding Tools
Tools for Grinding and Sanding
Polishing Tools
Tools for Bending

Using a Vise
Bending Fork
Bending Jig
Bending Jig for Volutes and Scrolls

The Materials Iron & Steel

Ferrous Materials
Pure Iron
Pig Iron
Steel
Cast Iron
Cast Steel
Wrought Iron
Basic Materials of Forging
Iron

Iron and Steel Production

Steel

Development of Steel Production
Steel - Structure and Properties
Explanation of Terms
Other Elements in Steel Metalloids

Metalloids Mode of Action
Important Alloying Elements
Classification of Steels
Methods for Determining Steel Grades

Spark Test
Determining Steel Grade by Spectral Analysis
Corrosion Resistant Steels
Damascus Steel

Nonferrous Metals (N-F Metals)
Hardening
Tempering
Annealing

Stress Relief Annealing
Normal Annealing

Heat Treatment Errors
Determining Hardness

Brinell Hardness (HB)
Vickers Hardness (HV)
Rockwell Hardiness (HRC)

Further Information on Metal Properties

Practical Forging

Forged Tools for Agriculture and Forestry
Scythes
Axe and Hatchet

Making an Axe
Forging a Sappie from a Square Block
Forging a Hooked Sappie or Hookaroon from a Blank

Crampons
Tools for Working the Soil
Forging a Planting Hoe
Other Forged Parts for Agriculture and Forestry
Cramp Irons
"Logging Staples"
Rings
Hooks
The Farrier
Making Simple Forged Pieces
Simple Basic Elements of an Artistically Forged Scroll
Spirals
Balls
Rivet Header
Volutes

Bending a Volute from a Round Steel Bar -- A Sample Volute Serves as a Template

Nails and Rivets
Screws for Ornamental Heads
Rivets with Ornamental Heads
Handle for and Old Chest Lid
Handle with Basket Twist
Handle with Ball
Small Candleholder
Candleholder with Crossed bars
Candleholders for Wall Mounting or with Stand
Forging Leaves

Four-Blade Leaf of Sheet Metal

Bracket for a Rain Gauge
Flower Design Made of A Spiral and Four Leaves
Simple Floral Element
Nail Puller
Window Grating with Scrolls
Clothes Hook
Basket Twist

Making a Basket Twist by Machine

Window Grating
Brackets

Bracket 1
Bracket 2
Bracket 3

Door Hinge
Door Hinge Pintle
Wall Cross with Split Forged Design

Split Forging Cross Example

Bottle Opener
Garden Stand with Volutes
Workpieces Forged from Scrap Metal
Knife Made from a Worn Out Power Saw Chain
Knife Made from an Old Steel Cable

Children and Hot Iron
Examples of Forging
Appendix

Glossary
Sources and Notes
Literature


ISBN: 978-0-7643=5737-4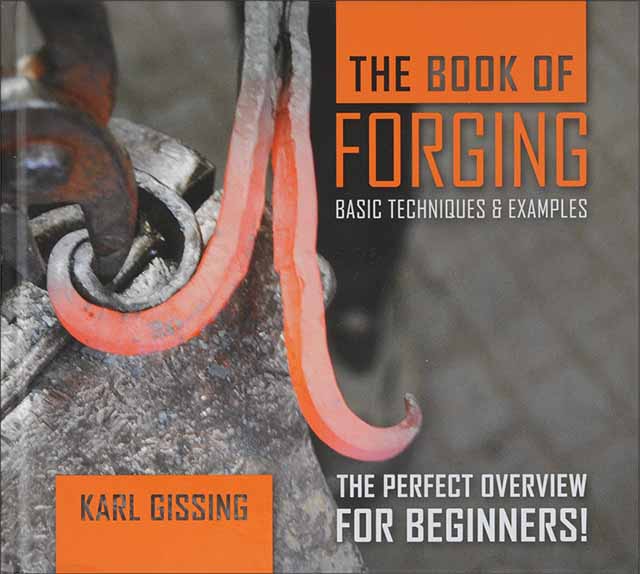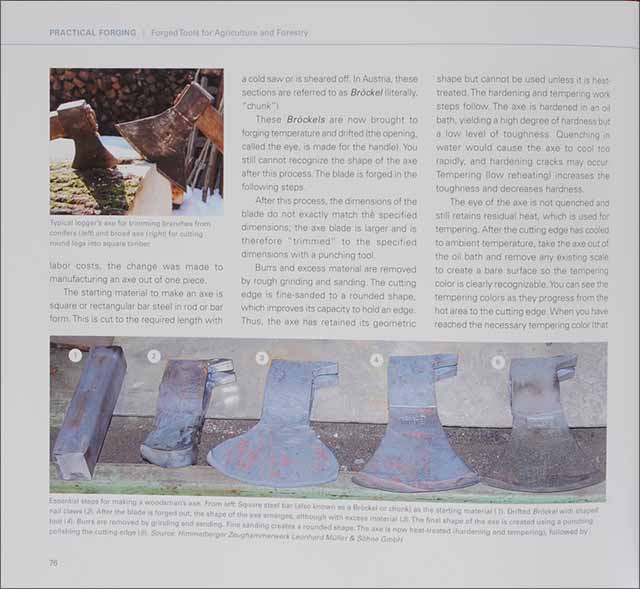 Track of the Wolf, Inc.
18308 Joplin St NW
Elk River, MN 55330-1773
Copyright © 2021Track of the Wolf, Inc.