Alte Scheibenwaffen - Old German Target Arms, Volume 2,
by Jesse Thompson, C. Ron Dillon, Allen Hallock, Bill Loos,
compiled by Tom Rowe
A continuing study of the various German target arms reveals a vast and little understood subject. This vlume will conclude the Scheibenbuchsen (Schutzen Rifles), many wonderful examples are shown from some of the best collections in the world. Information is these chapters will dispell many of the erroneous facts about them. Also included is a Directory of makers from the the center of German gun manufacturing - Zella, Mehlis, and Suhl. Hardcover 422 pages, full color photos.

The Table of Contents includes the following:


Table of Contents
Forward
Acknowledgements
Section 1 Scheibenbuchse:

Burgsmuller
Collath
Flobert
Frohn

Model 1903
Model 1906
Stabil

Grothe
Hiller
Ideal
Jung
Kersten
Kneifel
Kolbe
Lefaucheaux
Lettow
Marrkolbe
Martini

Frohn
German
Henry
H.W.Z.
Jung
Kessler
Langer
Luck
von Schatzl
Schlegelmilch Schmidt & Haberman
Stahl
Stahl Patent 343
Stahl Patent 933
Stahl Patent 1885
Stiegele
Swiss
Tanner
Unknown

Mauser
Meffert
Nagant
Neumann
Nimrod
Oberhammer
Oertel
Pistor & Kost
Reform
Singer
Stahl
Stukenbrok
Tanner
Tanner
Venus
Warnant
Werder
Werndl
Wernzl
Unknown
Will

Section 2 Kleinkaliberbuchse
Section 3 Wehrmannsbuchsen
Section 4 Directory of Makers
Index:



ISBN: 0-9707608-4-1

Same day shipment, when you click ADD TO CART and complete shopping cart check out. Inspect the item, return it for same day refund if not delighted. You will be pleased with your choice. You pay postage, your only risk.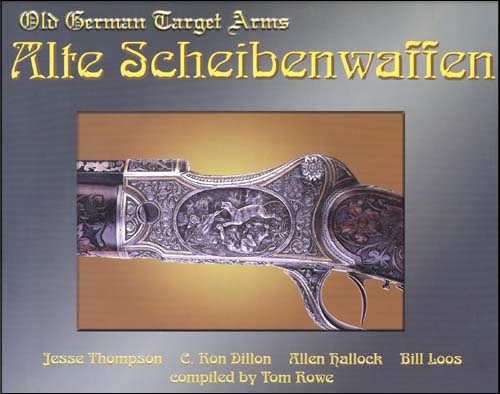 Track of the Wolf, Inc.
18308 Joplin St NW
Elk River, MN 55330-1773
Copyright © 2021Track of the Wolf, Inc.