The Art of Making Primitive Bows and Arrows
by D. C. Waldorf
D. C. Waldorf explains several related topics in detail. The text covers tools and woods for bow making, a simple self bow, bow designs, sinew backing, making a bow string, making arrows and quivers. Valerie Waldorf's many photographs and plan drawings illustrate the book and make the projects easy.

Soft bound with 52 pages in 8-1/2 x 11" format, with a source list for products used. This is a "how to" book for the flint knapper who wants to make traditional primitive arrows.

The Table of Contents includes the following:
Introduction
I. Some Theory and Terminology
II. Making the Simple Selfbow
III. Tools
IV. Bow Woods
V. Bow Design
VI. Tricks of the Trade, Some Advanced Techniques
VII. Sinew Backing
VIII. Snakeskins, Handle Covers and Finishes
IX. Bow Strings
X. Making Arrows
XI. Quivers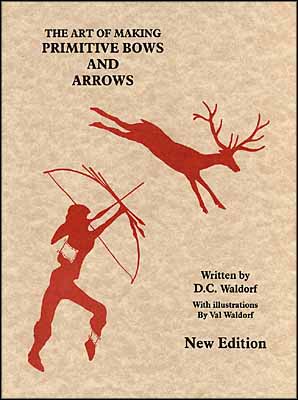 Track of the Wolf, Inc.
18308 Joplin St NW
Elk River, MN 55330-1773
Copyright © 2022Track of the Wolf, Inc.