Accouterments,
Volume Two,
by James R. Johnson
A continuation of the first book, with hundreds of detailed photographs of the guns of Christian Springs, Rupp, Peter Berry, a fullstock by Sam Hawken, a trade rifle and a trade fusil, powder horns, knives, tomahawks, calumets, and other accoutrements. All large pictures, with dimensions, details, and materials used in the construction of the items.

Hardcover, 200 pages, 8-1/2 x 11" format.

The Table of Contents includes the following:
Rifles
Pistols
Hunting Bags
Powder Measures
Trade Silver
War Clubs
Tomahawks and Axes
Knives
Powder Horns
Accouterments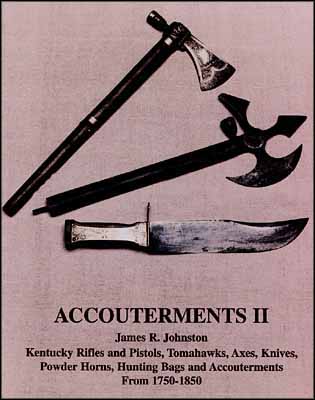 Track of the Wolf, Inc.
18308 Joplin St NW
Elk River, MN 55330-1773
Copyright © 2021Track of the Wolf, Inc.