Lead Removal Cloth,
6 x 9", by Birchwood Casey
Impregnated with chemistry, this 6 x 9" cloth is packed in a plastic pouch. Cut patches to remove lead, carbon, copper, plastic, rust or tarnish. Great for percussion revolvers and rifles using naked lead Minie or Maxi-balls. Essential for black powder cartridge rifles or revolvers that tend to lead the barrel.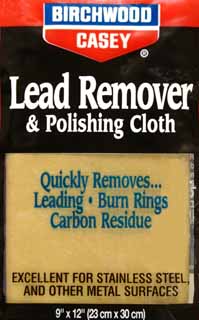 Track of the Wolf, Inc.
18308 Joplin St NW
Elk River, MN 55330-1773
Copyright © 2023Track of the Wolf, Inc.