Bayonet for Brown Bess,
with scabbard, 18" triangular blade
This socket bayonet is made to fit your Brown Bess musket. The socket is .935" inside diameter, to slide over the muzzle of your Second Model Brown Bess, or your First Model Brown Bess, with Colerain or Getz barrel. Overall length is 21-1/2" with a 18" triangular blade.

Sheathed in a finely crafted black leather scabbard, with re-enforced leather tip, and fine cotton webbing shoulder strap. This style of scabbard was used during the Revolutionary War by the American militia.

Click ADD TO CART for same day shipment. Ten day inspection, of course. Same day refund, if not delighted. Postage is your only risk.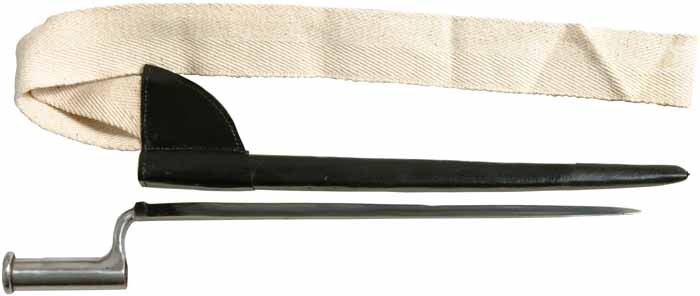 Track of the Wolf, Inc.
18308 Joplin St NW
Elk River, MN 55330-1773
Copyright © 2021Track of the Wolf, Inc.