Possibles bag,
fine leather, 8" by 8",
red wool "Cross of Lorraine"
The double flap is pierced with a red wool "Cross of Lorraine", a very old symbol of the early fur trade. The bag has a 1-1/4" buckle adjustable strap. The outside edge of the flap is is finished with scalloped light weight suede. This two compartment bag has a small pocket sewn to the inside divider. It also features a half gusset for increasing capacity while maintaining a slim profile. About 8" x 8", with a brass buckle for comfortable strap adjustment.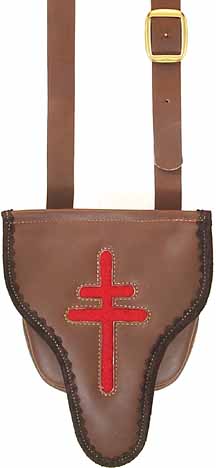 Track of the Wolf, Inc.
18308 Joplin St NW
Elk River, MN 55330-1773
Copyright © 2022Track of the Wolf, Inc.