Track's Catalog 18,
Out of Print
Please use our FREE on-line catalog and web site.
Track's Catalog 18 IS NO LONGER AVAILABLE!

432 pages filled with "exact full size photos" of gun parts and other small parts, this book is a valuable selection guide for the gunsmith who is building, repairing, or restoring antique and replica guns.

We print this book on fine coated paper, in full color, on a Heidelberg printing press, fold the pages, collate the page signatures, bind it, clear-coat the cover, and deliver it by U. S. Mail for $10.00 delivered cost, within the USA. Foreign orders are only $25.00 delivered cost.

View our complete catalog in PDF format, FREE, on-line by clicking on the DOWNLOADS tab above.

Our catalog has chapters of books, plans, blueprints, clothing patterns, craft manuals, and sketchbooks, including many titles on Antique Guns, Edged Weapons, Gun Building, Full Scale Plans, Black Powder Cartridges & Guns, Civil War, Mountain Men, Powder Horns, Survival, Flint Knapping, Primitive Archery, French & Indian War, Revolutionary War, Fur Trade, Buckskinning, Camp Cookbooks, Frontier Women, Indian Clothing and Culture, Quill and Beadwork.

Choose from our dozens of cast and forged tomahawks and axes. Learn how to make your own tomahawk with our instructional books and videos, and decorate your tomahawks with our inlays and tacks. Hundreds of knife parts, finger guards, hilts, buttcaps, knives, polished blades, knife handle scales, rivets, sharpening stones, books on Knife Making are offered. Replica antique folding knives are a popular new area of interest, and we offer both folding knives, and instruction books for making your own.

Catalog 18 now contains our full line of 'actual size' gun plans. Gun builders will find our special tools, taps, drill bits, inletting chisels, scraping tools, inletting compound, and illustrated instruction manuals to be worth the price of the catalog alone.

Muzzle Loading Gun Kits are our specialty. We offer dozens of choices, with mix-or-match selections of calibers, fancy figured wood, brass or silver or iron furniture, choice of sights, percussion or flint, in many styles.

View our complete catalog in PDF format, FREE, on-line.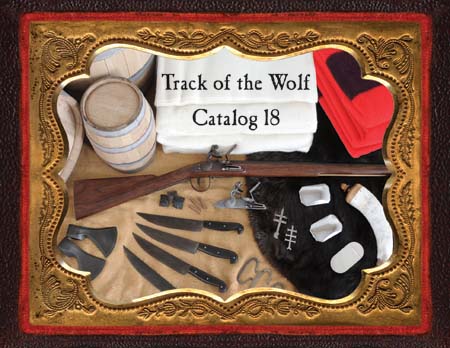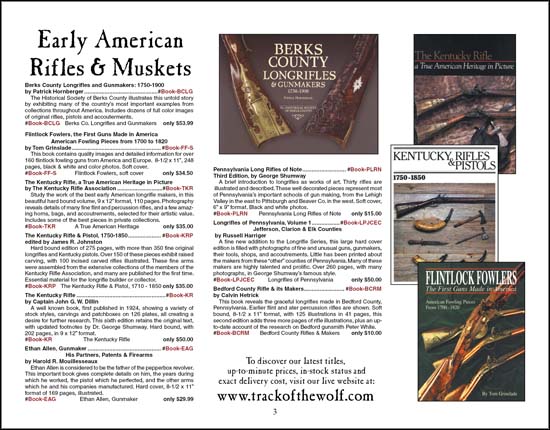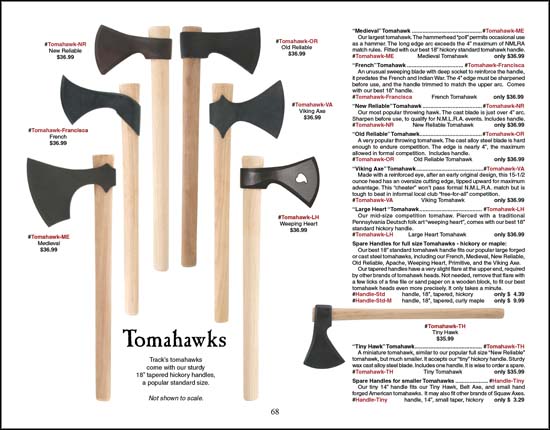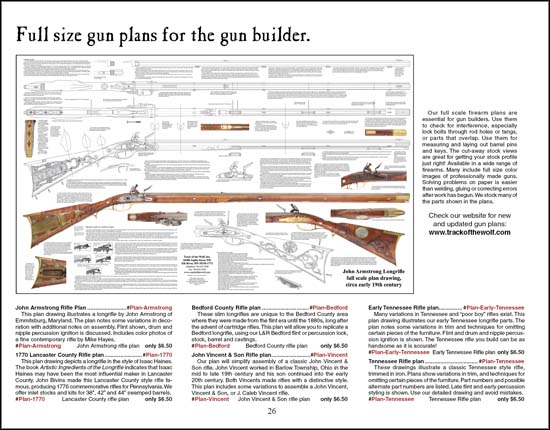 Track of the Wolf, Inc.
18308 Joplin St NW
Elk River, MN 55330-1773
Copyright © 2023Track of the Wolf, Inc.