Hawken Rifle,
.54 caliber 36" barrel,
L&R percussion lock, iron trim, walnut,
new, unfired, by George Nelson
Stocked in walnut, this classic percussion halfstock Hawken rifle is trimmed with traditional Hawken iron furniture. The 36" barrel and iron trim are finished to a dark brown. A classic Hawken hooked breech and two wedge keys retain the straight octagon barrel. allowing instant take-down, for easy cleaning. This rifle was assembled by contemporary builder George Nelson, and is signed on the top flat of the barrel. Trigger reach is 14", to fit todays average shooter. This rifle weighs 9.6 pounds.

The .54 caliber 1" straight octagon rifle barrel is cut rifled with six wide lands and grooves in a caliber appropriate 1 in 66" twist, ideal for tightly patched round balls. The bore is bright in as-new condition. The barrel is finished to a smooth dark brown. A nickel silver front sight with brass base is dovetailed behind the muzzle. The semi buck horn rear sight is dovetailed 8-1/2" ahead of the breech.

The straight grain walnut stock has a dark brown tone and is finished to a satin egg shell finish. The stock is trimmed in iron furniture with a classic Hawken crescent buttplate that securely engages your shoulder. The forend is fitted with a poured pewter muzzle cap. This percussion rifle is made to accept a sturdy 7/16" ramrod. The ramrod is fitted with a iron tip threaded 8-32 for loading and cleaning accessories. The top view shows the long tang hooked breech. Both tang screws engage the long steel trigger plate, forming a strong steel sandwich that reinforces the wrist from above and below. This was one of Jacob and Sam Hawken's secrets. If a rifle becomes broken, it will most likely be broken at the wrist, the thinnest section of the rifle stock. The triggerplate and tang reinforce the wrist, strengthening this critical area, making the Hawken rifle reliable, durable, and famous. The beaver tail toeplate protects the pointed toe while loading. The wedge keys extend just past the opposite oval escutcheons. Notice the typical beaver tail cheek rest, double set triggers, and single lock bolt fitted to a recessed steel escutcheon, all classic features of an 1840 era Hawken rifle. It balances nicely in your hands, for offhand shooting.

The L&R percussion Hawken lock has been finished to a dark brown. This mid-19th century styled lock has a strong mainspring, stirrup link, and fly detent, all nice internal features. The front upper edge of the lock plate has been neatly shaped to blend into lock panels. Mr. Nelson notes that the lock is tightly fitted and should you need to remove it from the stock it is best to loosen the lock bolt and gently tap the bolt head to push the lock from the mortise. The L&R double lever double set triggers are tuned to fire the lock set, or unset. The lock and triggers may be cocked or set in any sequence.

New in unfired condition, this Hawken rifle is well fitted, and is ready for use in the field. It will serve you well. Order it for a ten day visual inspection. You will be delighted. Else if it does not fit you, return it in unfired condition for same-day refund. Postage is your only risk, when you order any one-of-a-kind gun from Track, whether new, used, or antique.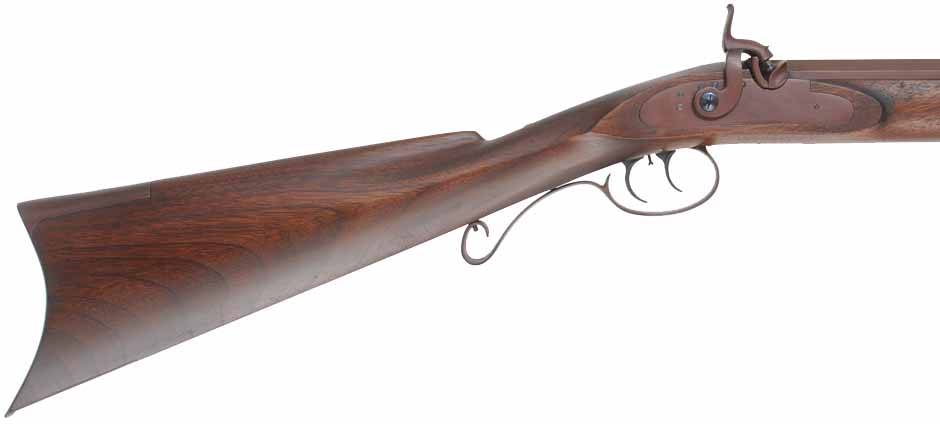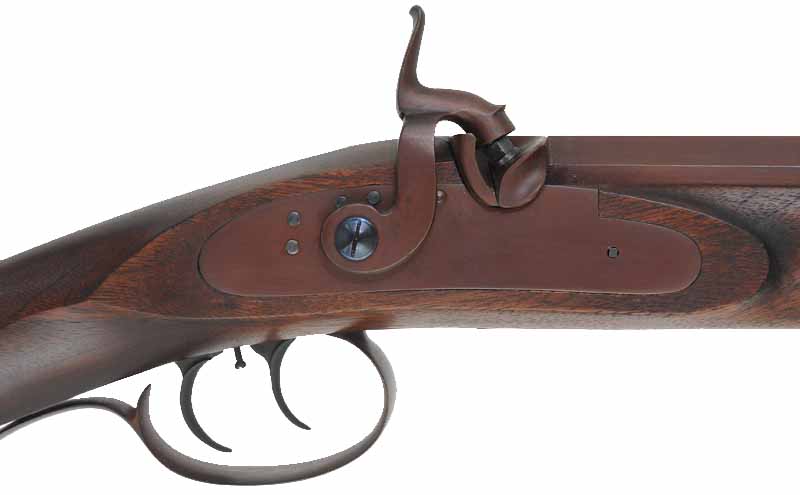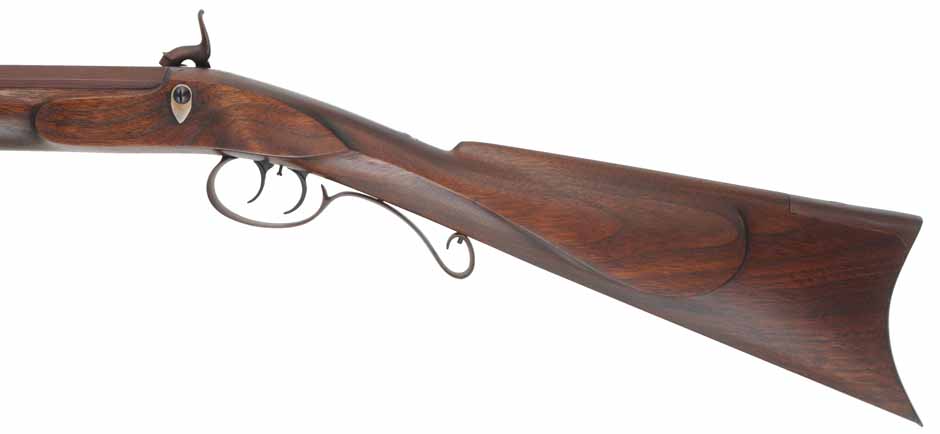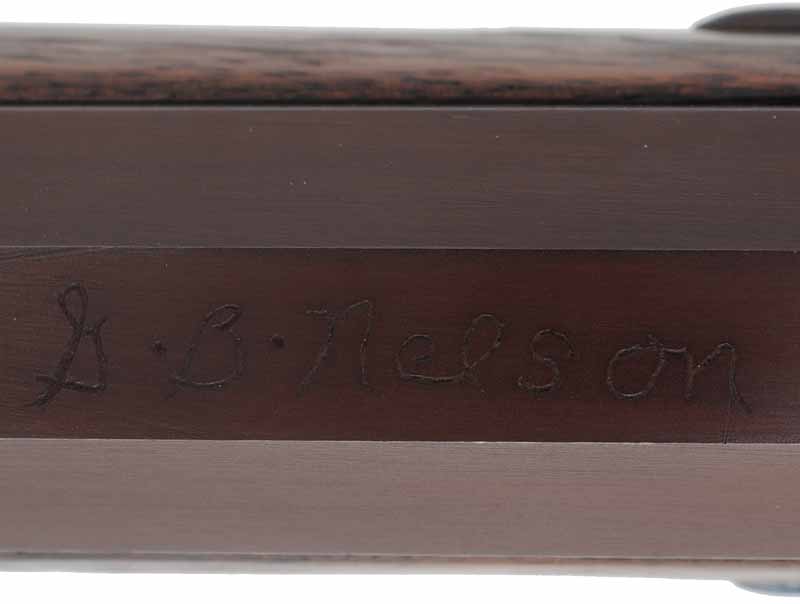 Track of the Wolf, Inc.
18308 Joplin St NW
Elk River, MN 55330-1773
Copyright © 2023Track of the Wolf, Inc.