Kentucky Belt Pistol,
.40 caliber, 6" barrel,
flintlock, walnut, brass trim,
as-new, by A. Edge
This Kentucky belt pistol is stocked in black walnut with a warm even brown tone. This pistol is trimmed in brass furniture that has been polished bright. The straight octagon .40 caliber barrel is finished to a dark brown and the Small Queen Anne lock by Jim Chamber's is polished bright. Hand assembled by contemporary builder A. Edge.

The 6" straight octagon barrel is finished to a dark brown. The .40 caliber bore is cut rifled with eight lands and grooves with an appropriate twist for patched round ball. The bore is bright and is ready to shoot. The barrel is fitted with a brass blade front sight. No rear sight is fitted on this pistol. The top flat of the barrel is signed A.C. Edge.

The walnut stock is shaped with graceful slender proportions and just wraps the barrel along the forend. The brass triggerguard is mounted with a pin up front and screw in the grip rail. The ramrod does not pass through any pipes and no muzzle cap is fitted on this short barrel pistol. The ramrod has a brass tip with 8-32 threads for loading and cleaning accessories. We recommend using a pistol loading rod, our #PL-6-40 to better service this pistol. Two domed lock bolts pass through simple washer style sideplates to engage the lock on the opposite side.

The Small Queen Anne flintlock by Jim Chamber's is polished bright. The rounded plate, pan, and the elegant cock are of London's best style, popular from 1730 to 1770. When using our best 3/4" knapped English gun flints, #FLINT-ENG-6, the lock will throw a shower of sparks into the pan. A vent liner is well centered and positioned at the top edge of the pan to provide best ignition. The single trigger provides a smooth release of the lock.

Neatly fitted and finished, this light weight Kentucky pistol will be a delight to carry at the rendezvous, an historical event, or as a trusted companion when trekking through the woods. Order it for a ten day visual inspection. You will be delighted. Else if it does not fit you, return it in unfired condition for same-day refund. Postage is your only risk, when you order any one-of-a-kind gun from Track, whether new, used, or antique.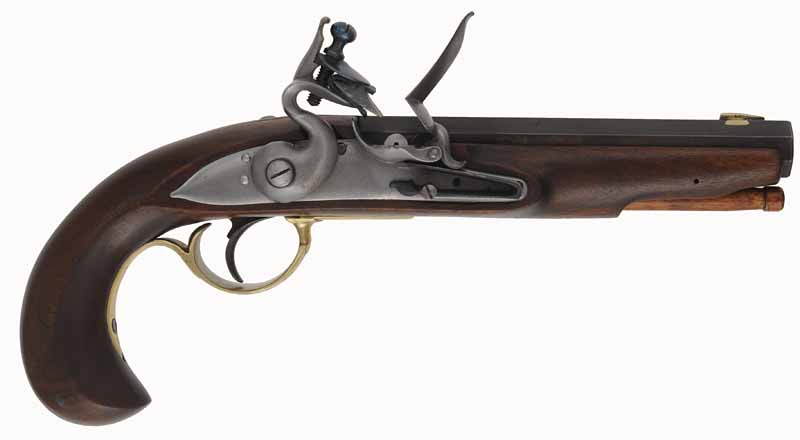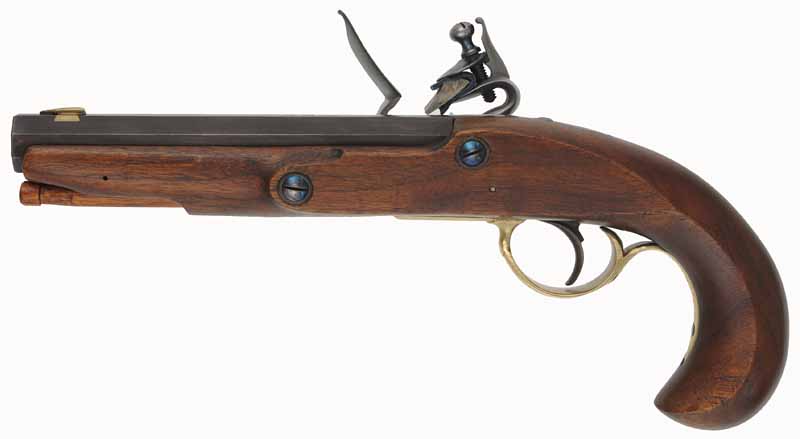 Track of the Wolf, Inc.
18308 Joplin St NW
Elk River, MN 55330-1773
Copyright © 2021Track of the Wolf, Inc.