Drum drilling tool,
alignment jig,
for drilling nipple threads
Install a percussion powder drum on your new rifle barrel, and be assured of perfect alignment. Using this drilling jig is very quick and easy.

No file fitting is required to index the nipple to correctly engage the hammer. Never use a washer or shim under your powder drum. Install one of our drums and use this tool to locate and install the nipple threads.

After your lock is correctly located, and fully inlet against the barrel's side flat, drill tap and install our un-drilled powder drum. Tighten it snugly against the barrel. Lower the hammer on your lock, and draw a line across the face of the drum, showing the proper nipple angle. Remove the barrel and drum assembly from your stock. Slip this tool over the drum. Align it with the line on your drum. Tighten the locking screw, and insert the drill bushing. Using your hand drill and your #3 drill bit, drill a connecting hole into the powder drums center channel. Remove the drill, bushing, and insert our 1/4-28 plug tap.

Using a tap wrench and thread cutting oil, thread the hole to accept our best #RST-S nipple with 1/4-28 threads. Finish with our bottom tap. Dismount the drill jig, and proof test your barrel and drum before use. Apply our #BC-CTL anti-seize grease to your nipple threads, to prevent galling or seizing, even after extended use.

NEVER remove a fitted and finished breech plug or powder drum. Removal risks permanent damage. Bore obstructions can more easily be removed using other methods.

Drum, nipple, tap drill, tap, and tap wrench are sold separately.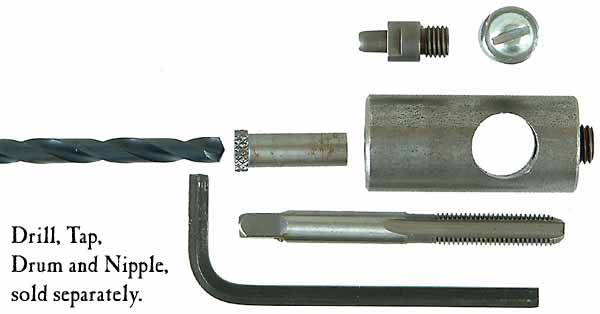 Track of the Wolf, Inc.
18308 Joplin St NW
Elk River, MN 55330-1773
Copyright © 2021Track of the Wolf, Inc.