British Issue Musket Tool,
forged & tempered imported carbon cutlery steel,
pin punch & turnscrews,
for your Brown Bess Musket
A very useful tool for managing the Brown Bess and similar military muskets. Carry this correct replica tool in your cartridge box our pouch.

The British musket tool has a large screwdriver head, for tightening the top-jaw screw on your musket, and a smaller screwdriver head for the lock bolts or any other screws. It also has a pin punch, for dismounting the steel dowel pins that retain the barrel.

The original triangular musket tool can be found in the Collector's Illustrated Encyclopedia of the American Revolution by George Neumann and Frank Kravic, sold separately. Order #BOOK-CIEAR at $21.95.

This detailed replica tool, forged and tempered from imported carbon cutlery steel, will give a lifetime of good service.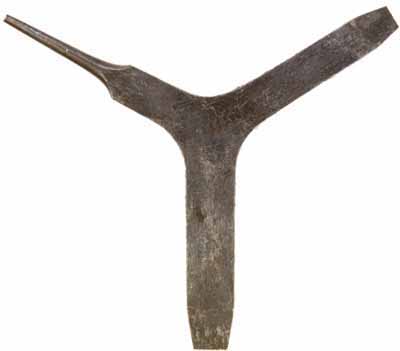 Track of the Wolf, Inc.
18308 Joplin St NW
Elk River, MN 55330-1773
Copyright © 2023Track of the Wolf, Inc.