Francisca Tomahawk,
4" cutting edge, 4140 alloy steel,
18" tapered hickory handle,
made in the U.S.A.
An unusual sweeping blade with deep socket to reinforce the handle, it predates the French and Indian War. This sophisticated design was difficult to forge. The 4" edge must be sharpened before use, and the handle trimmed to match the upper arc. The head weighs just under 1 pound.

The blade edge is just over 4" in arc length, the NMLRA legal limit. It requires quick sharpening before use, to qualify for NMLRA match rules.

Made in the U.S.A. wax cast of tempered 4140 alloy steel, a few licks of a fine file, before each day's use, will keep the edge sharp.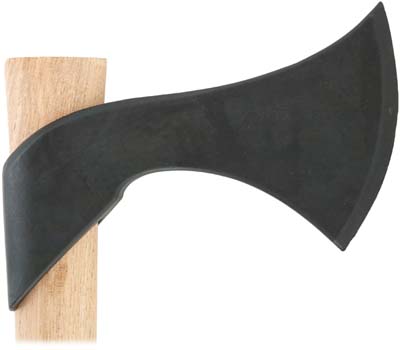 Track of the Wolf, Inc.
18308 Joplin St NW
Elk River, MN 55330-1773
Copyright © 2022Track of the Wolf, Inc.