British Military Tomahawk,
2-3/4" edge, 4140 alloy steel,
18" tapered hickory handle,
made in the U.S.A.
Our British Ordnance axe is copied from an original found at a 1755 British camp site in Pennsylvania, and shown on page 100 of the book A Soldier-Like Way by Ryan Gale.

This simple wax cast alloy steel blade has a 14 oz. head measuring 5-5/8" tall, which includes a 1-1/2" long, 1" wide, by 1/2" hammer head, and a 3-1/2" long blade with a 2-3/4" wide cutting surface. Comes assembled with our standard unfinished hickory handle.

One side of the blade is marked with the broad arrow of the British Board of Ordnance. This axe is perfect for any French and Indian War, and American Revolution British military impression.

Made in the U.S.A. wax cast of tempered 4140 alloy steel, a few licks of a fine file, before each day's use, will keep the edge sharp.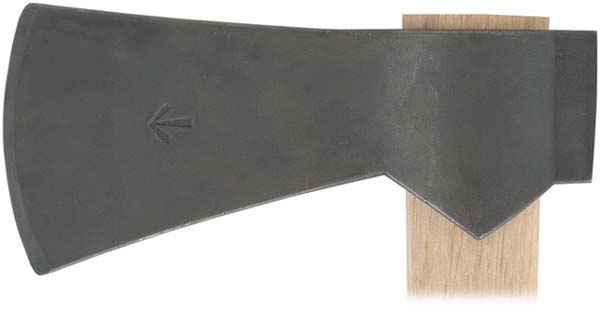 Track of the Wolf, Inc.
18308 Joplin St NW
Elk River, MN 55330-1773
Copyright © 2021Track of the Wolf, Inc.