Fire Striker Hand Forged from File,
with flint chard
Authentic and well proportioned, this fire striker is hand forged from a file. Some file marks may still be visible. Our fire striker fits neatly in our popular oval tinder and tobacco boxes listed below.

Our special hardening process makes it spark well, throwing showers of hot sparks, when you present the sharp edge of our flint chard at the perfect angle as shown in #BOOK-MSFT. Hardened through, we temper this striker to be durable, but it can be broken if slammed against concrete. Treat it with care. It is a truly correct replica of a primitive American folk-art tool.

Our low price includes a sharp flint chard. Striker measures about 3-1/2" long.

Shown against a North West Trade Token for scale, this striker will serve you well. Order our brass tinder box, tinder tube, and our Making Sure-Fire Tinder illustrated instruction manual to go with your fire striker.

Same day shipment, when you click ADD TO CART and complete shopping cart check out. Inspect the item, return it for same day refund if not delighted. You will be pleased with your choice. You pay postage, your only risk.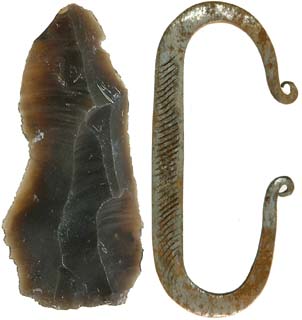 Track of the Wolf, Inc.
18308 Joplin St NW
Elk River, MN 55330-1773
Copyright © 2022Track of the Wolf, Inc.