Strike-a-Light
fire striker, hand forged, curled ends,
with flint chard
Authentic and well proportioned, our fire striker fits neatly in our popular oval tinder and tobacco boxes. Striker measures about 3-3/8" long.

Our low price includes a sharp American flint chard. Our special hardening process makes it spark well, throwing showers of hot sparks, when you present the sharp edge of our flint chard at the perfect angle. Not brittle, it is virtually unbreakable!

Order our strike-a-light fire striker with flint. Add a brass tinder box, tinder tube, and our #BOOK-MSFT Making Sure-Fire Tinder illustrated instruction manual. Read about our technique, and try it. No secrets are held back. We tell all. No exotic materials or chemicals are needed. Our technique is correct, authentic, and legal for use in all NMLRA Primitive Match fire-making competition events.

One young lady reports winning a regional competition with our striker, producing a flame in only two seconds. Wow!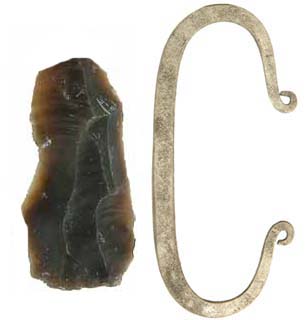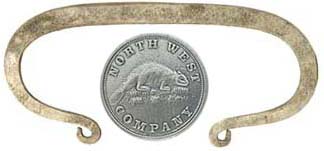 Track of the Wolf, Inc.
18308 Joplin St NW
Elk River, MN 55330-1773
Copyright © 2022Track of the Wolf, Inc.