Stock, Classic Tennessee, pre-inlet large Siler lock,
13/16" octagon, 42" barrel, semi-fancy maple
Our classic Tennessee fullstock has a buttstock with a straight comb, unlike our earlier stocks, a bit thicker than the very thin late Tennessee stocks. This stock will look great, when trimmed in iron. Pre-inlet for our slim 13/16" octagon 42" barrel, large Siler flint or percussion lock, our TR-DST-4 or 6 triggers, a straight tang plug, and drilled for a 3/8" ramrod. Trigger reach may be adjusted up to 15", with 4-1/2" drop. Butt end is 5 x 1-1/2", not yet cut for buttplate.

Southern mountain rifles were sometimes made in poor boy style, omitting the buttplate, toeplate, forend cap and ramrod entry pipe. A simple grease hole was sometimes drilled, instead of a patchbox. Our pre-inlet stock has a 42" straight octagon 13/16" barrel channel, and 3/8" rod hole drilled full depth. The stock is pre-inlet for a short straight tang. Shaping includes forend, crisp lock panels, straight cheekpiece, not cut for the buttplate.

Specifications for inlet stocks:

Drop and trigger reach: drop is 4-1/2" from the line of sights to heel, at 15" of pull
Barrel channel size: 13/16" straight octagon, up to 42" length
Breech plug: Straight tang for 13/16" barrel
Butt end: 1-1/2" wide by 5" high, not cut for buttplate
Lock, flint: #LOCK-SL-FL-RH large right hand Siler flint lock
Lock, percussion: #LOCK-SL-CL-RH large right hand Siler percussion lock
Ramrod hole & groove: 3/8" diameter, drilled full depth
Triggers: #TR-DST-6 double lever double set triggers
Triggerguard: #TG-SM-1-B wax cast brass, or #TG-SM-1-I wax cast steel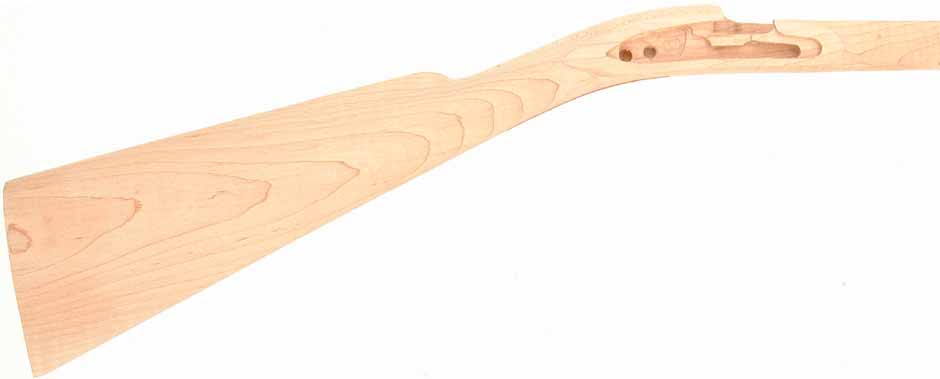 Track of the Wolf, Inc.
18308 Joplin St NW
Elk River, MN 55330-1773
Copyright © 2022Track of the Wolf, Inc.