Powder Horn Valve Kit,
Revolutionary War era,
wax cast brass
This English military style powder horn valve is known to have been used during the American Revolution, perhaps as early as the French and Indian War, 1757 through 1763.

Our kit has a wax cast brass horn spout, steel spout lever, tempered lever spring, 4-40 mounting screw, and 3/32" steel pivot pin. We also offer all these parts individually, if you need replacement parts. Make your own early style horn. Cow horns are sold separately.

This finely crafted powder horn, by Mike Hawkins, was made from our plain raw cow horn, and our military style brass valve kit. It is a copy of a U.S. Arsenal horn, in The Powder Flask Book, #BOOK-PF.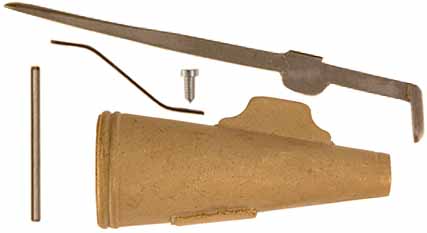 Track of the Wolf, Inc.
18308 Joplin St NW
Elk River, MN 55330-1773
Copyright © 2022Track of the Wolf, Inc.