| | |
| --- | --- |
| Soule Rear sight, Vernier 4" Tang Sight, for Pedersoli 1874 Sharps & 1885 Highwall rifles | |
Pedersoli's Soule long range tang sight has three mounting holes in the base, to fit most popular black powder rifles. The front hole is elongated to fit other brands of rifles which may have different hole spacing. The nominal centers are 2.25" apart. It will fit Sharps rifles with a 2.260" hole spacing, and Winchester 2.180" hole spacing. The eye disk is threaded 5-.5MM to accept Pedersoli manufactured Hadley eye disk #RS-DP-HADLEY.

Supplied with four mounting screws, two with the special sharps 10x28 thread used on original antique Sharps rifles, and replicas by Shiloh, C. Sharps, Pedersoli, and others. Two metric 4mm screws for other popular rifles by Pedersoli, EMF, Pedretti, IAB, Uberti, SILE, Powder River, and other replica rifles made in Italy. Over 7" tall this sight has 4" of elevation, for extreme long range shooting.

The base is pre-drilled for mounting screws with one oval hole to allow this sight to be fitted to rifles with a 2.180" to 2.260" hole spacing. Replica Sharps rifles typically have a 2.260" hole spacing. The 2.180" spacing is designed to fit Winchester and Browning rifles.

Once fitted to a rifle, you can loosen the ratcheting detent spring. Bring the staff to a position perpendicular to the plane of the barrel and re-tighten the spring. It is even possible to reverse the base of this sight and install the sight staff to fit other rifles due to multiple detents milled in the staff.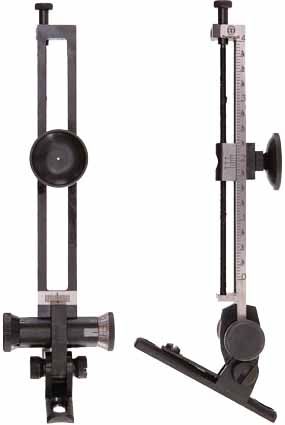 Track of the Wolf, Inc.
18308 Joplin St NW
Elk River, MN 55330-1773
Copyright © 2023Track of the Wolf, Inc.