Ghost Ring Tang Sight
with two aperture posts, and mounting hardware,
by Davide Pedersoli & Co., Italy
A ghost ring tang sight by Davide Pedersoli & Co. is designed to fit many Pedersoli rifles; some Hawken models Kodiak Express, Howdah pistol, and double barrel shotgun. Using on the Howdah pistol or double barrel shotgun will require elevating the front sight.

The sight includes two posts with 0.157" diameter aperture. The sight has both windage and elevation adjustments. The right hand knurled knob releases the threaded sight post for elevation adjustment. The rear screw secures the dovetailed block for windage adjustment. A taller dovetail block is included.

The sight base has one elongated hole allowing the sight to be mounted from 1.3" to 1.24". Mounting hardware subject to change, but currently includes two wood screws. One 5-.8mm tang bolt 1.18 long, and one 4-..8mm bolt .27" long.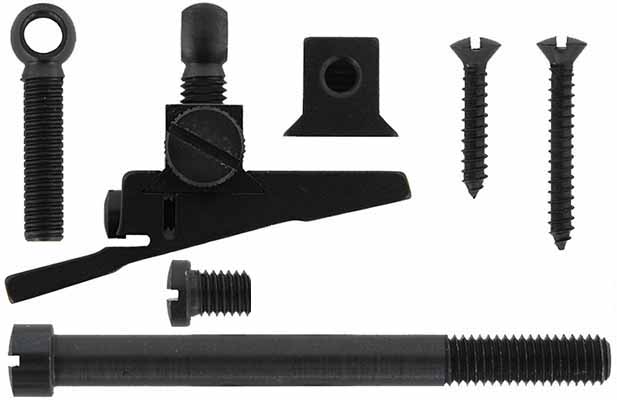 Track of the Wolf, Inc.
18308 Joplin St NW
Elk River, MN 55330-1773
Copyright © 2022Track of the Wolf, Inc.