Vernier 5" Long Range Tang Sight,
for 1874 Sharps, or 1885 Winchester rifle,
complete with Sharps mounting screws,
by Davide Pedersoli
Blued steel, over 5" tall, this heavy gauge steel sight is calibrated with an engraved Vernier scale, from 0 to 3 inches elevation, with two windage adjustments. Zero the rifle at the eyepiece. Adjust the calibrated base to compensate for current wind conditions. The eye disk is threaded 5-.5MM to accept Pedersoli manufactured Hadley eye disk #RS-DP-HADLEY.

The base is pre-drilled for mounting screws with one oval hole to allow this sight to be fitted to rifles with a 2.180" to 2.260" hole spacing. Replica Sharps rifles typically have a 2.260" hole spacing. The 2.180" spacing is designed to fit Winchester and Browning rifles.

Once fitted to a rifle, you can loosen the ratcheting detent spring. Bring the staff to a position perpendicular to the plane of the barrel and re-tighten the spring.

Two tight 10-28 Sharps mounting screws are included, to fit your 1874 Sharps original, or replica by Shiloh, C. Sharps, Axtell, ArmiSport, Davide Pedersoli, Arcadia, or other Sharps rifle with this thread. Additonal 4-.7mm screws are included for installation on a replica Sharps by IAB, Pedretti, Garrett, Palmetto, Marcheno, SILE, Powder River, or EMF.

Winchester 1885 single shot rifles, and Winchester repeating rifles, will require a short mounting screw at front, and a longer tang bolt, sold elseware, after the model is determined.

Click ADD TO CART to create a price quote, check delivery, or create an order. You may change, add, print, modify, or delete items at any time, until you approve and transmit your order.

Click VIEW CART and then CHECK OUT for prompt shipment. Or PRINT your order, attach your check, and pay by U. S. Mail. Exact postage to your address is displayed on the order totals.

Ten day inspection begins at delivery. Send your approval. Else return it for same day refund, if not delighted. Postage is your only risk.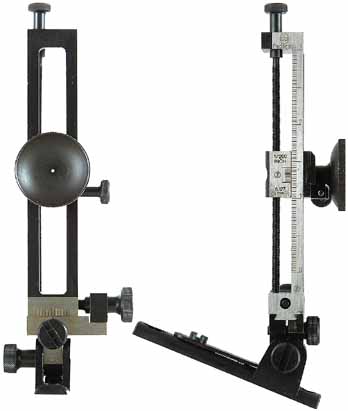 Track of the Wolf, Inc.
18308 Joplin St NW
Elk River, MN 55330-1773
Copyright © 2022Track of the Wolf, Inc.